WB polls: For these voters in Coochbehar, its history in making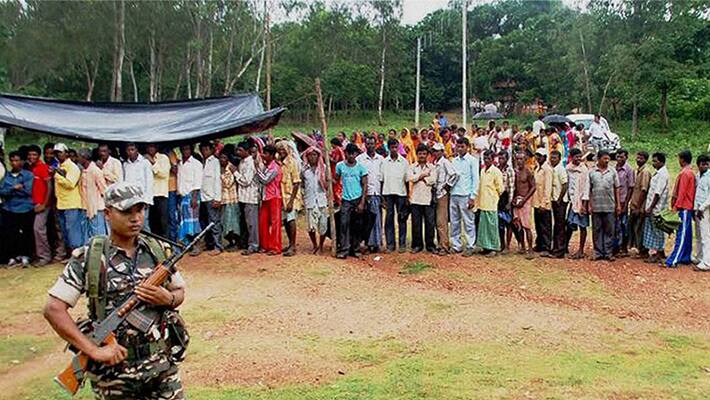 In a virtual no man's land ever since India became independent in 1947, more than 9,000 persons living in 51 enclaves in Coochbehar district will exercise their franchise for the first time on May 5.
Till recently these settlers belonged to no country and hence were devoid of any right belonging to a citizen. Their enclaves were formally declared Indian territory after the exchange of enclaves with Bangladesh on August 1, 2016.
Chief Coordinator of Bharat Bangladesh Enclave Exchange Coordination Committee Diptiman Sengupta, who has been fighting for the rights of the enclave dwellers for a long time, said the voters were confronted with two big issues: Job reservation and quick disposal of land settlement.
"There are near about 15,000 people in the enclaves who have got Indian citizenship. Out of them, 9,776 are eligible voters who will vote for the first time," Sengupta said.
He told PTI that the people there want at least 10 % reservation in government jobs and that all development work in the enclaves is carried out through the active involvement of the residents. Quick disposal of land settlement is another demand.
"The 51 enclaves became Indian territory, but the enclave dwellers (14864), who became Indian citizens were yet to get the rights of the land they were living in," he said.
Bangladesh and India exchanged 162 adversely-held enclaves on August, ending one of the world's most complex border disputes. In all 111 Indian enclaves measuring 17,160 acres became Bangladesh territory and similarly 51 Bangladesh enclaves, measuring 7,110 acres, became Indian territory. The 51 enclaves are spread across Dinhata, Mekliganj, Sitai, Sitalkuchi and Toofanganj Assembly constituencies.
The district administration of Coochbehar said the technical process regarding the identification and granting of land rights was in process.
The political parties are, however, non-committal on the issue of reservation of jobs, but say they will surely look into their other demands.
"The issue of job reservation can't be decided by the state government, it has to be discussed in Parliament. I have been fighting for the cause of enclave dwellers from the very beginning. But we will surely look into other demands," senior TMC leader and incumbent MLA from Dinhata Udayan Guha said.
"If voted to power, we will surely discuss granting land rights and getting development work done by local people. But job reservation is a constitutional matter and has to be discussed in Parliament," CPI-M politburo member Mohammed Salim said.
Last Updated Mar 31, 2018, 7:06 PM IST