WATCH: Russian YouTuber 'Koko in India' harassed in Delhi's Sarojini Nagar Market; viral video sparks outrage
A Russian YouTuber, known for her channel 'Koko in India,' was harassed by a man in Delhi's Sarojini Nagar market, live-streamed the incident, which went viral, sparking outrage and calls for action against the harasser.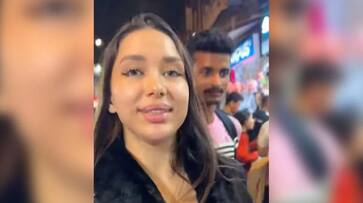 In a recent incident, a Russian influencer known for her YouTube channel 'Koko in India' found herself harassed by a man in the bustling Sarojini Nagar market of Delhi. The entire ordeal was live-streamed on her YouTube channel and rapidly gained viral attention. In the video clip, the man initially engages in a seemingly harmless conversation with Koko, expressing his desire to befriend her. As Koko walks through the market, the man approaches her, claiming to be a regular viewer of her videos. However, his friendly intentions quickly took an uncomfortable turn.
As the conversation progressed, the man started making indecent remarks about Koko's appearance, prompting her discomfort. Despite her efforts to ignore him, he persisted in following her and making lewd comments. He said, "Aap vaise bahut sexy ho. Kya aap (friend) banna pasand karoge? (You are very sexy. Would you like to be my friend)."
The YouTuber shared the recording of the incident on her social media platforms, revealing her discomfort throughout the encounter. She managed to maintain her composure but concluded the conversation when the man attempted to flirt with her, saying, "Okay, bye-bye."
The video quickly gained widespread attention on the internet and sparked outrage among viewers, many of whom strongly condemned the man's behavior. Numerous users called for action to be taken against him.
One user expressed their apologies, saying, "Being an Indian, I apologize for that guy's behavior." Another user extended their sympathy, stating, "Being an Indian, I am extremely sorry for that shameless and desperate guy. I am sorry that such guys exist in our society. Also, I salute your bravery and the way you ignored that guy."
Another user commented on the need for consequences, saying, "He was just one slap away from a much-needed lesson." The gravity of the situation was emphasized by another user who added, "This is not funny... not funny at all."
Koko, originally from Russia, is a popular internet personality with a substantial following. She boasts nearly 70,000 followers on Instagram and has a YouTube subscriber count exceeding 200,000 users.
Last Updated Oct 20, 2023, 9:50 PM IST