WATCH: Indian musicians cherish moment of pride at G20 Summit; thank PM Modi for golden opportunity
The G20 Summit special dinner was a night of musical celebration and unity, made possible by the unwavering support of Prime Minister Narendra Modi.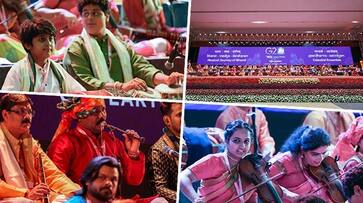 The G20 Gala Dinner hosted by President Droupadi Murmu was not just a grand diplomatic event; it was a celebration of India's rich and diverse musical heritage. The evening witnessed artists from every corner of India coming together to showcase their unique forms of art, thanks to the vision and support of Prime Minister Narendra Modi.
Also read: India's musical heritage wows G20 leaders at gala dinner hosted by President Droupadi Murmu (PHOTOS)
For many artists like Zubair, a Folk Musician, this event marked a historic opportunity to stand on a global stage and share their art with the world. Zubair expressed his gratitude, acknowledging that it was Prime Minister Narendra Modi's commitment to promoting Indian culture that made this moment possible.
The gala dinner was a harmonious fusion of musical traditions from across the country. Traditional music, representing India's vast cultural tapestry, was showcased with pride. Award-winning musicians and emerging talents alike came together to create a captivating symphony that resonated with the essence of India.
Also read: WATCH: Painting of Chandrayaan-3's success featuring PM Modi showcased at G20 Summit 2023
Vidash Bhupati, a musician from New Delhi, shared his sense of pride in playing alongside renowned artists. This event truly embodied the spirit of "Unity in Diversity," as artists from different regions and backgrounds united through music. Their collective performance exemplified the strength and richness of India's cultural mosaic.
Anoushka Majumdar, a santoor player from Kashmir, expressed her heartfelt thanks to Prime Minister Narendra Modi for making this cultural exchange possible. A Sarod player from Kolkata too expressed feeling blessed and thankful to Prime Minister Narendra Modi for providing the opportunity to showcase India's musical excellence to the world.
The gala dinner at the G20 Summit was a shining example of cultural diplomacy. It highlighted how music and art can transcend boundaries and bring people together. Prime Minister Narendra Modi's vision of promoting India's cultural heritage on the global stage has created opportunities for artists to share their talents and foster understanding among nations.
Also read: G20 Summit: Padma Shri Dilshad Hussain thanks PM Modi for bringing global recognition to brass nakashi (WATCH)
Last Updated Sep 10, 2023, 4:33 PM IST