G20 Summit: Padma Shri Dilshad Hussain thanks PM Modi for bringing global recognition to brass nakashi (WATCH)
Padma Shri Dilshad Hussain, who is a master craftsman of brass nakashi work, reveals interaction with PM Narendra Modi at the G20 Summit 2023 and thanks the Indian government for promoting his work at the global stage.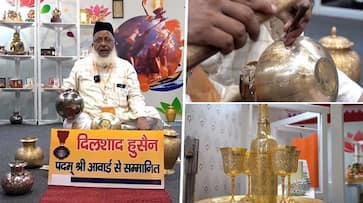 At the Crafts Bazaar in the G20 Summit 2023 in New Delhi, the world witnessed an array of incredible talents of Indian artisans. The unique zone at the Bharat Mandapam offered a captivating glimpse into the world of Indian craftsmanship, highlighting the country's rich artistic heritage. Among the many skilled craftsmen featured, Padma Shri awardee Dilshad Hussain, a master craftsman renowned for his brass nakashi work, who recounted his interaction with PM Narendra Modi at the mega event.
Also read: WATCH: Painting of Chandrayaan-3's success featuring PM Modi showcased at G20 Summit 2023
Dilshad Hussain's mastery lies in the art of brass nakashi work, a traditional craft that involves intricate etching and detailing on brass surfaces. His creations are known for their precision, beauty, and the stories they convey. For the Padma Shri awardee, being a part of the Crafts Bazaar at the G20 Summit venue is a momentous occasion.
In an interview, Dilshad Hussain revealed, "PM Modi came to my stall and he liked a black brass vase kept in my stall. Moments later, I received a phone call asking me to send the same black brass vase. I was told that PM Modi will take the same to Germany and give it as a gift. I am extremely delighted and people of Moradabad are thrilled that our craft and work will go abroad. We do send our items globally, but what's important is to note that this time it will go through the hands of PM Modi."
"I would like to thank the Indian government and PM Modi for promoting our work at a global stage," Hussain added.
Also read: G20 Summit 2023: Pithora painting artisan from Gujarat sheds light on Vasudhaiva Kutumbakam theme (WATCH)
Brass nakashi work is a craft deeply rooted in tradition, yet artisans like Dilshad Khan infuse it with a touch of innovation. He combines age-old techniques with contemporary designs, creating pieces that resonate with both traditionalists and modern enthusiasts. His work not only reflects the cultural essence of India but also demonstrates the adaptability of traditional crafts to the demands of the present.
Last Updated Sep 10, 2023, 1:44 PM IST