WATCH: Differently-abled Muslim boy, dressed as Krishna for Janmashtami, wins hearts in Kerala
A differently-abled Muslim boy Muhammed Yahiyan grabbed the attention of Kerala when he dressed up as Little Krishna for Sobha Yatra in Kozhikode as part of Sree Krishna Jayanti celebrations.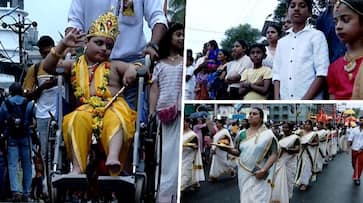 Kozhikode: As part of Sree Krishna Jayanti celebrations in Kerala on Wednesday, several little children were beautifully dressed up as little Krishna and Gopikas for the Sobha Yatras. The participation of a Muslim child, Muhammed Yahiyan (8), who was dressed as Lord Krishna stood out among the hundreds of children who participated in the Sobha Yatra organised by the district unit of Balagokulam. 
Also read: Aluva shocker! 8-year-old daughter of migrant couple raped; second case in 2 months
Yahiyan, who was in a wheelchair, told reporters that his mother supported him because he loved to dress up as Sree Krishna. Without even taking into account the weather, his mother Rubiya walked with him while donning a purdah. Wearing yellow silk, a golden crown, and a peacock feather, Yahiyan came to the Sobha Yatra. 
"Although it rained a lot, I didn't mind because I wanted to dress for myself like Krishna," Yahiya told the media, waving his hands to the spectators gathered on either side of the road, "My mum dressed me up this way," he said. Yahiyan needs a wheelchair to move about due to physical disabilities.
Speaking to reporters, Rubiya added that she was merely assisting her son in fulfilling his desire to dress up as Sree Krishna and participate in the procession. "We didn't do this for popularity; we did it for his happiness. We are participating in the procession for the first time," she stated. 
In addition, Yahiyan stated that when he grows up, he wants to work as a scientist. He is also undergoing treatment for his muscles and the doctors have assured that the child will be able to walk soon. Yahiyan is a class 3 student of Bilathikulam BEM Upper Primary School.
 
Last Updated Sep 7, 2023, 1:33 PM IST