Vote for Congress = Vitamin for 'Aurangzebs': Himanta Biswa Sarma in Madhya Pradesh election speech (WATCH)
Madhya Pradesh Election 2023: Assam Chief Minister Himanta Biswa Sarma has drawn a controversial parallel by suggesting that a Congress victory in Madhya Pradesh could lead to an upsurge in oppressive actions against the populace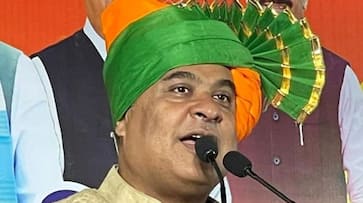 Madhya Pradesh Election 2023: Assam Chief Minister Himanta Biswa Sarma has equated support for the Congress party with endorsing individuals who have historical associations resembling "Babars and the Aurangzebs" within the nation. He also issued a warning, suggesting that if the Congress were to come into power in Madhya Pradesh, it could lead to a surge in oppressive actions against the population. Sarma cited the situation in Karnataka, where the Congress holds power, and urged people to resist the "Chunavi Congress's Hindutva."
"Voting for Congress implies bolstering the 'Babars' within the country. When Congress secures votes, it provides 'Aurangzebs' with vitamins. If Congress wins, it could lead to the Babars and Aurangzebs carrying out atrocities across India. Congress's victory in Karnataka, and the ensuing turmoil, is an example. Their mischief begins as soon as Congress secures a victory. This is their political strategy. We must reject the 'Chunavi' Congress's Hindutva," Sarma expressed during an election rally in Madhya Pradesh's Khandwa.
This isn't the first instance of Sarma making such provocative comments. During an election rally in Chhattisgarh's Kawardha on October 18, he made a controversial remark about Akbar, stating, "The land of Mata Kaushalya will remain defiled unless Akbar is sent away."
"If one Akbar comes to some place, he calls 100 Akbars. So, send him off as soon as possible, otherwise the land of Mata Kaushalya will get defiled," he added.
Soon after he made the remarks, the Election Commission sent a notice seeking an explanation in this regard.
In Khandwa, Sarma accused Congress leader Rahul Gandhi of refraining from criticizing Palestinian-based terror group Hamas, which was responsible for launching an assault on Israel on October 7, resulting in casualties and hostages. Sarma suggested that Rahul Gandhi's silence was motivated by a fear of potential consequences from what he referred to as "India's Hamas".
Sarma also praised Prime Minister Narendra Modi for sending a strong message against terrorism and reiterated Modi's commitment to protecting India. He emphasized that the conflict between Israel and Palestine was not India's concern, but he criticized Rahul Gandhi for not speaking out against Hamas, the terrorist organization responsible for the attack in Israel.
Last Updated Nov 9, 2023, 1:40 PM IST