Violence in Delhi again: Head constable killed, DCP injured as clashes erupt in Maujpur

A Delhi Police head constable was killed and a deputy commissioner of police (DCP) was injured today as violence broke out in national capital between anti and pro-CAA protesters in Maujpur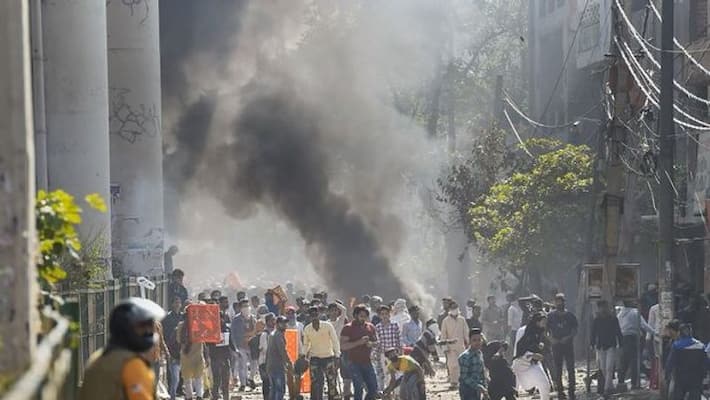 New Delhi: Fresh clashes erupted between pro and anti-CAA protestors in the city's Maujpur area on February 24. In the incident a Delhi Police head constable was killed. Head constable Ratan Lal was attached to the office of the assistant commissioner of police, Gokulpuri. The deputy commissioner of police was also injured in the incident.
Deputy commissioner of police, North-East Ved Prakash Surya took stock of the situation and said that they have spoken to both sides to calm the situation.
Also read: Violence in Delhi: Clashes between pro and anti-CAA protesters leads to stone pelting
 "We have spoken to both sides, now the situation is calm. We are continuously speaking to people and now the situation is under control," he said.
Meanwhile, Section 144 of CrPC has been imposed at 10 locations in the North-east district of the national capital after the clash.
On Sunday, Delhi witnessed violence as tensions escalated during a pro-CAA rally. This is the same area which has been witnessing a sit-in protest against the Citizenship Amendment Law (CAA).
A clash between pro and anti-CAA protesters broke out leading to stone-pelting on the streets of Delhi.
Jaffrabad:
A large number of anti-CAA protesters including over 1,000 women on Saturday night gathered at Jaffrabad metro station and blocked the road under it.  The Delhi Metro Rail Corporation (DMRC) had to close entry and exits at the metro station after viewing the situation on February 23.
Last Updated Feb 24, 2020, 5:15 PM IST