Uttar Pradesh: 6 children among 14 die in road accident on Prayagraj-Lucknow highway
Fourteen people, including six children, of a wedding party were killed and few others injured when the vehicle they were travelling in collided with a parked truck in Pratapgarh district of Uttar Pradesh late on Thursday night, officials said.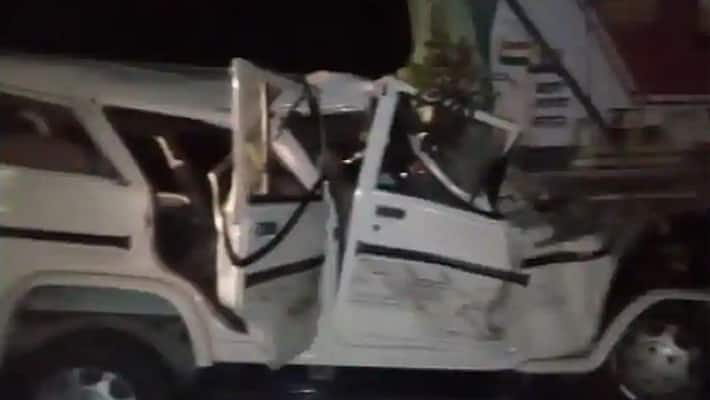 Prayagraj: In a tragic incident, at least 14 people, including six children, were killed in a road accident in Uttar Pradesh's Pratapgarh late on Thursday night. The accident was reported from Prayagraj-Lucknow highway under limits of Manikpur Police Station.
All the occupants of the SUV died in the crash and several others have been injured.
Visuals from the accident show a crumpled Mahindra Bolero being pulled out from the back of the truck.
SP (Pratapgarh) Anurag Arya said the accident took place around 11.45pm on Thursday when an SUV carrying 14 passengers rammed into a truck killing all of them on the spot.
Arya added that initially police had recovered five bodies and then they called in a JCB to take out the ill-fated SUV from under the truck. The police later recovered nine more bodies from the SUV.
Police said out of 14 victims, six were aged between 7 and 15 years while the remaining eight persons were aged between 20 and 60 years.
Initial police investigation revealed that the driver of the truck had parked the vehicle on the roadside to fix the flat tyre. The driver of the SUV could not control the speed and rammed into the truck from the rear side.
All victims were returning home to their village in Kunda in the district after attending a wedding, the police official said, adding that all help has been assured to the families of the victims.
The dead have been identified as Dinesh Kumar (40), Pawan Kumar (10), Dayaram (40), Aman (7), Ramsamujh (40), Ansh (9), Gaurav Kumar (10), Naan Bhaiya (55), Sachin (12), Himanshu (12), Mithilesh Kumar (17), Abhimanyu (28), Parasnath (40) and the driver of the Bolero Bablu (22).
Expressing grief over the incident, Chief Minister Yogi Adityanath directed senior officials to reach the spot and provide assistance to the victims, his office said.
A compensation of Rs 2 lakh has been announced to the next of the kin, The Indian Express reported.
Last Updated Nov 20, 2020, 10:59 AM IST