Triple talaq case: Centre opposes practice, submits affidavit to SC
A group of petitioners have filed a case in the SC against the triple talaq.
The Muslim Personal Law Board is in favour of the practice.
The Centre has formally come out against the practice.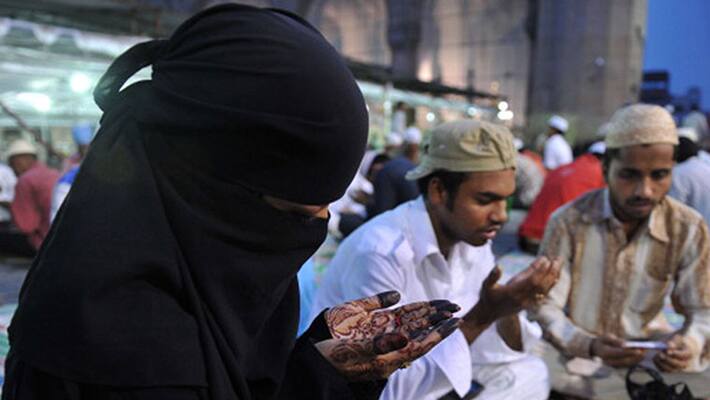 Ban triple talaq, punish men who give divorce arbitrarily and allow women to seek divorce - these are some of the demands over which the All India Muslim Women Personal Law Board (AIMWPLB) has petitioned the Supreme Court. 

The Court had given the Centre four weeks to respond to the petition and the Centre has officially filed a 28-page affidavit formally stating that the government was opposed to the practice of triple talaq. The Government argued that the triple talaq could not be considered essential to the religion of Islam and was also contrary to the gender equality and other freedoms enshrined in the Constitution. 
Underlining that instantaneous talaq is in contravention of the tenets of the Quran, President of AIMWPLB Shaista Amber has sought punishment for those men who give triple talaq so it could act as a deterrent.
"Quran says there must be time for reconciliation between partners. It says when a man gives talaq he must pause and consult his wife. Otherwise, triple talaq is like a hanging dagger for Muslim women," Shaista said.
AIMWPLB has also sought a ban on "nikah halala", where a woman who has been divorced through triple talaq has to marry another man and consummate her marriage with him before being eligible to remarry her ex-husband.
The board is also in favour of women being allowed to practise Khula - a form of divorce initiated by the wife, which is effected with the return of her husband's wedding gift.
Shaista said while Quran gives the right to divorce to women, there is a need for greater awareness among Muslim women about it.
The President of AIMWPLB also hit out at All India Mulsim Personal Law Board (AIMPLB) for defending triple talaq in the Supreme Court. 
The AIMPLB had told the SC recently that triple talaq was "better than murder" as otherwise husbands could kill their wives to` get rid of them.
"The intent behind their petition lacks empathy, fairness. They should have said that they are in favour of giving justice to women," said Shaista.

Shaista said her organisation was opposed to a Uniform Civil Code. "When we have Sharia, there is no need for a Uniform Civil Code".

On September 2, All India Muslim Personal Law Board (AIMPLB) told the Supreme Court that personal laws of a community cannot be "re-written" in the name of social reforms and opposed pleas on issues including alleged gender discrimination faced by Muslim women in divorce cases.
The board also said that practices provided by Muslim Personal Law on the issues of marriage, divorce and maintenance were based on holy scripture Al-Quran and "courts cannot supplant its own interpretations over the text of scriptures".
The apex court had taken suo motu cognizance of the question whether Muslim women faced gender discrimination in cases of divorce or due to other marriages of their husbands and a bench headed by Chief Justice of India T S Thakur is examining the issue.
Subsequently, various other petitions including one by triple talaq victim Shayara Bano were filed challenging the age-old practice of 'triple talaq' among the Muslim community.
Last Updated Mar 31, 2018, 6:40 PM IST