Parliamentarian Suresh Gopi's big day out in Delhi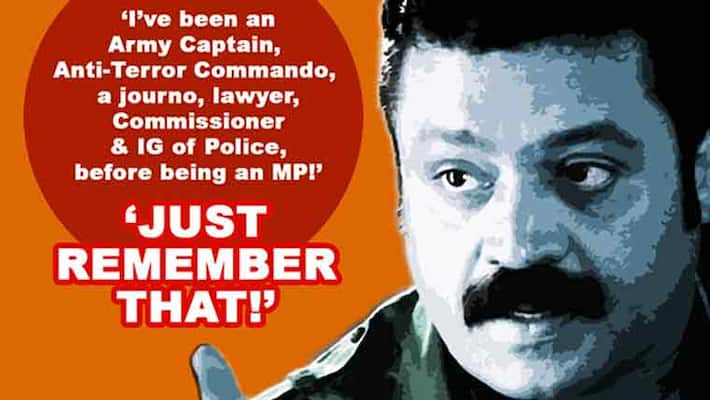 Troll mill on social media was waiting for this moment. 
Just as the news broke that Mollywood superstar Suresh Gopi, 56, was among the list of Rajya Sabha nominees, netizens quickly fished out a video clip from the archives (see video below). It reminded the action-hero days of Suresh Gopi---always flaming, always right and always the unrelenting cop who is never tired of longer- than- life dialogues that left even the big guns subdued and silent. 
After nailing his villain, who happened to be a fellow Rajya Sabha member, Suresh Gopi is seen shouting in his inimitable style. 
" … Distinguished Rajya Sabha Member! NRI lords, liquor barons and pimps like to pump dirty money to win such top posts," said the good cop.  He didn't stop there. (His characters are seldom comfortable with crisp dialogues.) "RS is a shortcut for such criminals to enter the House through the back door, without facing the electorate," Gopi, playing the good cop, goes ballistic. 
By ferreting out this old Suresh Gopi clip, his critics and rivals were trying to drive a point or two.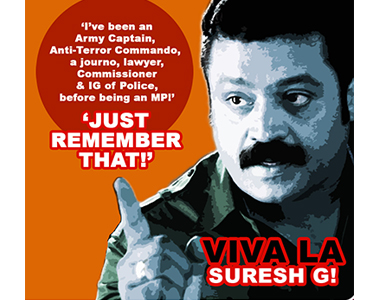 But, the national award winning actor was not in a mood to bite the bullet. He preferred to be gentle and meek as if he was doing an art-house film. "The RS nomination has nothing to do with politics," he said after visiting Sree Padmanabha Swami Temple in Thiruvananthapuram along with BJP leader O Rajagopal. 
Suresh Gopi had met BJP president Amit Shah and Narendra Modi more than once and had reportedly said that he would be a "humble slave" of Modi. 
Nominated to the Upper House, Suresh Gopi is widely rumoured to become the representative of Kerala in the Modi ministry. Though the trolls mocked at the super star's entry into RS, the BJP and Sangh Parivar believe that the nomination will  hugely benefit the party in the upcoming assembly polls as it leaves a sense that the Modi government is taking care of Kerala well. Besides, Suresh Gopi is already the star campaigner of BJP in the state. 
So, there's no point in forcing old dialogues into his mouth again, folks. He has turned a new page in his career.  And his glittering show at the capital on Tuesday is any indication, Suresh Gopi is going to enjoy stardom in Lutyen's Delhi as well.  
Last Updated Mar 31, 2018, 6:44 PM IST