SC asks AAP MP Raghav Chadha to tender unconditional apology to Rajya Sabha chairperson
The Supreme Court asked suspended AAP lawmaker Raghav Chadha to tender an unconditional apology to Rajya Sabha chairperson Jagdeep Dhankhar on the select committee issue, and hoped that he would take a sympathetic view of the matter.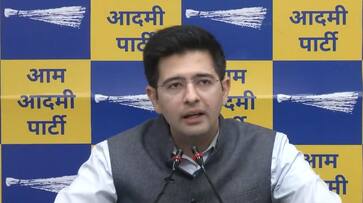 The Supreme Court on Friday asked Aam Aadmi Party (AAP) MP Raghav Chadha to meet Rajya Sabha Chairman Jagdeep Dhankar, and apologise for his alleged conduct in the House. On August 11, the AAP leader was placed on indefinite leave of absence from Parliament due to accusations that he had chosen to include certain MPs in a planned select committee without first getting their consent.
A bench led by Chief Justice of India DY Chandrachud said that the Rajya Sabha chairperson (referencing Dhankar) will sympathetically consider Chadha's apology and try to find a way forward. The CJI noted that the AAP MP is a first-time parliamentarian and is also the youngest member.
Also Read | 'Tareekh Peh Tareekh': CJI DY Chandrachud cites Sunny Deol's iconic dialogue to highlight case adjournments
On August 11, a motion was passed by a voice vote in the Rajya Sabha after it was moved by Leader of the House Piyush Goyal, who sought action against the AAP leader for including the names of some members of the Upper House without their consent in a proposed select committee for the Government of National Capital Territory of Delhi (Amendment) Bill, 2023.
The Court further stated that given the context of the House's facts and circumstances, the Chairperson may view the apology with sympathy. The Apex court has fixed plea of AAP MP after Diwali vacation and asks the attorney general to apprise it of development.
Also Read | What were 'the men' doing when Manipur burned, Thrissur Archdiocese mocks BJP and actor Suresh Gopi
Chadha was the second AAP member banned from the Rajya Sabha in the Monsoon session of Parliament. Sanjay Singh, a senior politician who was detained by the Enforcement Directorate on October 4 in relation to the Delhi liquor policy case, was removed from the Rajya Sabha on July 24.
Solicitor General Tushar Mehta, representing the Centre, also agreed that Chadha apologising would be a better option. Both parties have been asked to apprise the court about the progress on November 20.
Last Updated Nov 3, 2023, 2:00 PM IST