What were 'the men' doing when Manipur burned, Thrissur Archdiocese mocks BJP and actor Suresh Gopi
The mouthpiece of Thrissur Archdiocese of the Syro-Malabar Church, ''Catholicasabha', slammed the BJP and former MP Suresh Gopi for their silence on the Manipur riots. The Archdiocese also mocked the actor's 'men' remark over looking after the situation in Manipur.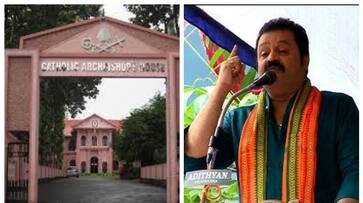 Thrissur: The Thrissur Archdiocese of the Syro-Malabar Church has slammed the Bharatiya Janata Party (BJP) central leadership, Kerala unit and actor and former MP Suresh Gopi in its November edition's mouthpiece 'Catholicasabha'. The diocese slammed the BJP for their silence during the Manipur riots. The mouthpiece asserted that Manipur will not be forgotten by the people during the election. The Archdiocese also said that the silence of the Prime Minister during the Manipur riots will be understood by those who are democratically minded.
Also read: Kerala: CPI(M) calls pro-Palestine rally, Muslim League's participation doubtful
The mouthpiece targeted Suresh Gopi on his statement that there are 'men' to look after the situation in Manipur and Uttar Pradesh and we need not interfere in it. The archdiocese asked where were these so-called 'men' and did they have the courage to question the Prime Minister and the BJP leadership when Manipur was burning. The Thrissur Archdiocese criticized the Prime Minister who reaches quickly when disasters occur in other states, however, does not go to Manipur.
By hiding the Manipur issue, people are aware of vote-seeking says the mouthpiece. The Kerala voters are wise enough to identify religious fanatics, regardless of how presentable they may appear in front of the polls, the Archdiocese of Thrissur cautions.
The state of Manipur has witnessed more than 180 fatalities and several hundred injuries since the violence began on May 3, triggered by a "Tribal Solidarity March" in protest of the Meitei community's demand for Scheduled Tribe (ST) status. 
Violence in Manipur has persisted for over five months and was sparked by ethnic clashes between the Meitei and Kuki communities. These clashes were primarily fueled by the Kuki community's demand for a Scheduled Tribe (ST) status, and the conflict has resulted in more than 180 fatalities since its inception on May 3.
The state's population comprises approximately 53% Meiteis, predominantly residing in the Imphal Valley, and 40% tribals, including Nagas and Kukis, who predominantly inhabit the hill districts.
Last Updated Nov 3, 2023, 12:54 PM IST