After years of 'boos', BJP welcomes Sanjay with open arms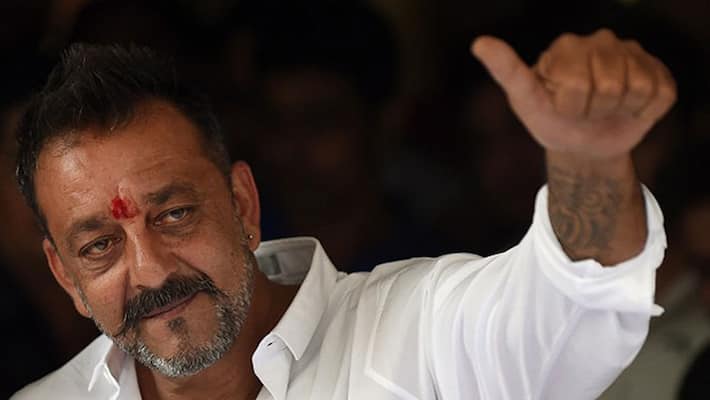 After the BJP raised several grand furores over the repeated paroles granted to Sanjay Dutt over the years, the two seem to have made peace with each other. Sanjay surprised many in political circles when he turned up at an event organised by the BJP at a Mumbai suburb on Maharashtra Day. 
The event at Dindoshi was organised by BJP's youth wing leader Mohit Kamboj, where Dutt and others present made an appeal to residents to elect Kamboj in the next assembly elections. 
Dutt, who was granted remission and released in February, donned an orange Maharashtrian 'pagdi', spoke in 'filmi' style and pledged to do everything for his friend Kamboj. 
His presence is seen as especially opportunistic since the BJP has consistently railed against Sanjay Dutt's paroles. In 2014, for example, Leader of Opposition in the Council Vinod Tawde had this to say - "There are many convicts serving terms who had demanded parole but it had been continuously rejected. Mr Dutt may be technically correct, but the government must understand who they are favouring and the kind of message being conveyed to society," 
To go further back, in 2013, the then Deputy Leader of BJP in the Lok Sabha Gopinath Munde stated - "He (Dutt) has already availed of the facility and it is outside the norms to grant it to him again. Patil should initiate a probe into this. We learnt that Dutt was granted parole as his wife was ill. Only doctors can comment on her health but media is showing visuals of her attending a film function the previous day," 

Whatever message may have been conveyed to society, the BJP clearly now feels Sanjay's mass appeal as a film star outweighs moral lessons. For the record, between May 2013 and May 2014 Sanjay Dutt spent some 118 days on the outside, either on parole or special leave. 
If these were not enough examples for a perceived friction between the two sides, Sanjay Dutt's sister is a long-standing MP for the Congress, winning twice in 2005 and 2009. She was beaten by the BJP's Poonam Mahajan in 2014. Political water-cooler talk at the time assumed that the parole controversy had cost Priya Dutt dearly, as public opinion favoured Sanjay Dutt serving his full term - like any other convict. 
Stepping back one generation, the ties to the Congress get even deeper with Sanjay's father - Sunil Dutt, who won his MP seat five times on a Congress ticket. 
Shiv Sena leader and former Mayor of Mumbai Sunil Prabhu, who defeated Kamboj in the 2014 assembly polls, said: "Had they (BJP leaders) loved Maharashtra truly, then they would not have even thought of inviting Dutt to the event."

The critics also recalled the long association of Sanjay's father, Sunil Dutt and sister Priya Dutt with the Congress.
"Dutt's parents Sunil Dutt, mother Nargis Dutt and sister Priya Dutt have been staunch Congress loyalists who stood by the party through all odds, but why and under what circumstances, Sanjay Dutt shifted his loyalty, only he knows," NCP spokesperson Nawab Malik said.
When contacted, Kamboj said, "I have a long and friendly association with Dutt. I wanted to invite him and got permission from senior party leaders. And what is wrong, if I invited him to be part of the Maharashtra Day celebrations."
Seeking to play down the issue, Mumbai BJP chief Ashish Shelar said: "Dutt had attended the Maharashtra Day celebrations at the invitation of Kamboj. It should not be seen politically."
Finding fault with the BJP for inviting Dutt to the function, a local Congress leader said, "This is a classic case of anti-nationalism, which is not new to the saffron party."
"It is nothing bizarre. Giving and taking protection from such elements has been in the DNA of the party. This had to happen one day," said Nizamuddin Raeen, spokesperson of the Mumbai Congress.
Nursing political ambitions, Dutt had initially flirted with the Shiv Sena and then joined Samajwadi Party in 2009 as its State General Secretary but quit that party after two years.
Last Updated Mar 31, 2018, 6:54 PM IST