Power Star Puneeth Rajkumar unveils 'Rudri' first look
Rudri movie gets a power push from the Power Star himself. Sandalwood actor Puneeth Rajkumar speaks about how the movie will create history.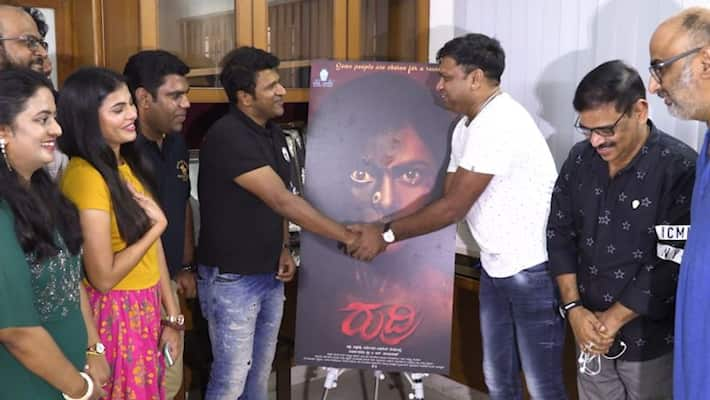 Bengaluru: Rudri (Kannada movie) poster looks promising and Power Star Puneeth Rajkumar unveiled the first look of the movie.
After the grand unveiling of the first look, Puneeth spoke to the media and said, "I was thrilled to launch the first look as I am sure that this movie will set a record in the film industry. I'm also happy to know that movies like Rudri have joined a list of Kannada movies which will create sensation across the country and bring global fame to Sandalwood. I'm sure that this movie will be a rocking hit."
Directed by Badiger Devendra, actress Pavana plays the protagonist in the movie sending out a strong message on women empowerment. The gutsy girl will be taking anti-social elements in the society head on, and delivering a message to girls on how to protect themselves.
Sadhu Kokila has romped music for the movie with CR Manjunath producing the flick. The director also spoke on the occasion and gave a slight hint to the audience on what to expect from the movie.
Badiger Devendra said, "The story revolves around in a small village called 'Panjur Katti' in remote North Karnataka. The protagonist named 'Rudri' faces a lot of problems in the society. The story of Rudri can be compared to a lot of problems that girls face in today's society. However, what makes the story unique is the way Rudri encounters these problems and overcomes them with her will and gutsy nature. The story of Rudri is an inspiration to every girl to fight for herself."
Unlike many movies, this movie doesn't have groovy tunes and dance numbers sticking to the commercially successful formula. Director Badiger boasts of upholding the nativity of the village and the simple life of the village girl by writing a great screenplay. The director claims that the movie will be a success with its storyline and doesn't need any catchy song and dance items.  
Produced by Idea Works Motion Pictures, actress Pavana will be starring in the lead role. The shooting phase is set to begin from June 15, 2020 at raw and unexplored places of Karnataka.
Well, the audience can look forward to the movie as Power Star Puneeth Rajkumar and director Badiger have heaped praises. 
Last Updated Nov 4, 2019, 4:58 PM IST