PM Modi's opinion poll will leave many confused
PM Modi launched a poll via his app to gauge reactions to his currency ban.
The poll has a series of vague, sometimes misleading questions.
Realistically only two, straight-to-the-point questions need to be asked.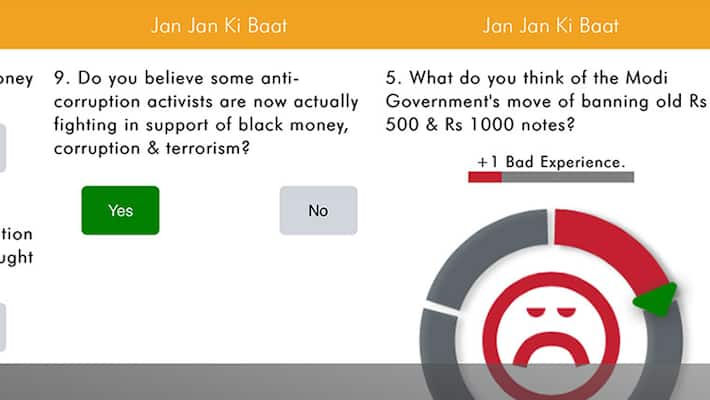 In yet another move to address the rising tide of criticism against the hasty implementation of the ₹500 and ₹1000 currency ban, Prime Minister Modi on Tuesday launched a questionnaire via his 'PM Modi App', seeking the public opinion on the move. 

Interestingly, the questions asked in the opinion poll appear to leave very little room to fully express oneself. The opinion poll is accessed by downloading and registering the PM Modi app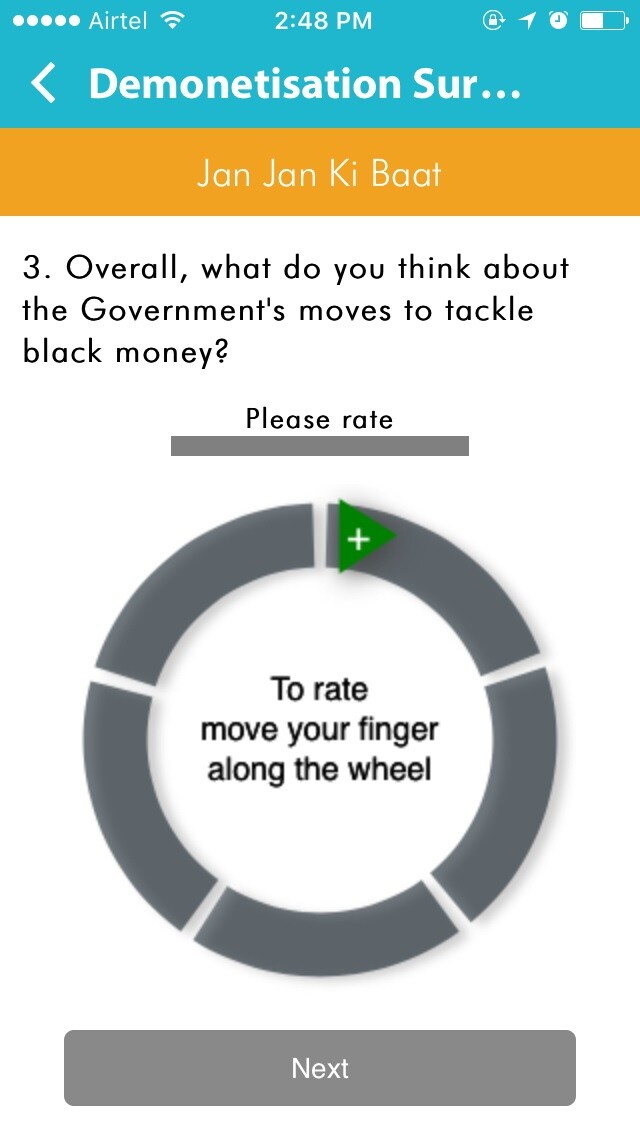 The very first questions are head scratchers. "Do you think black money exists in India?" and "Do you think the evil of corruption and black money needs to be fought and eliminated?"

It is hard to imagine any Indian, who either thinks black money does not exist in India or that corruption and black money does not need to be eliminated. 

If 99% of those who take the poll agree that black money needs to be fought, is that a victory for the government? Since who would say anything else?

The next three questions are the real heart of the matter: "What do you think of the Government's moves to tackle black money?", "What do you think of the Modi government's efforts against corruption?" and "What do you think of the Modi government's move of banning old Rs 500 and Rs 1000 notes?" 
A touch-based rating system lets you submit your feedback. 
But the following questions immediately go back down the twisted path.  Take question seven, for example. It wonders if demonetization will bring real estate, higher education, healthcare in common man's reach. 
You can either "completely agree", "partially agree" or "can't say". Once again, the option to wholly disagree with the move does not exist. 
What if someone feels this move will not bring property, education and medical services "within the common man's reach"? Well, tough luck. The best you can say is "Can't say".
The next question asks -  "Did you mind the inconvenience faced in our fight to curb corruption, black money, terrorism and counterfeiting of currency?" - "Not at all", "Somewhat, but it was worth it" and "Yes". 
Again the fact that it was worth it appears to have been pre-determined. 
The ninth question is where all pretence is dropped, and the pure politics enters. "Do you believe some anti-corruption activists are now actually fighting, in support of black money, corruption & terrorism?" 

Only two options here - "Yes" and "No". 

It should surprise no one, if, in the next speech the PM makes, he declares that so-and-so percentage of India agrees that those opposing the move are in support of black money, corruption and terrorism. 
There seems to be no other point to this question. 
Lastly, one has to compulsorily type in some feedback to the PM. Whatever one deems fit. 

Ultimately all of these ten questions can be summarised under two simple concepts - 

1) Do you agree with the banning of the currency note? "Yes", "No" and "Partially." 
2) How was the implementation on a scale of one to five?  

But apparently, even as the rest of the country struggles to fulfil the PM's grand financial plan, some heavy doses of politics and double think is unavoidable. 
Last Updated Mar 31, 2018, 6:45 PM IST