PM Modi praises Babul Supriyo's musical tribute to former President Pranab Mukherjee
PM Modi on Thursday (September 10) lauded the efforts of Union Minister Babul Supriyo who paid a musical tribute to former President Pranab Mukherjee.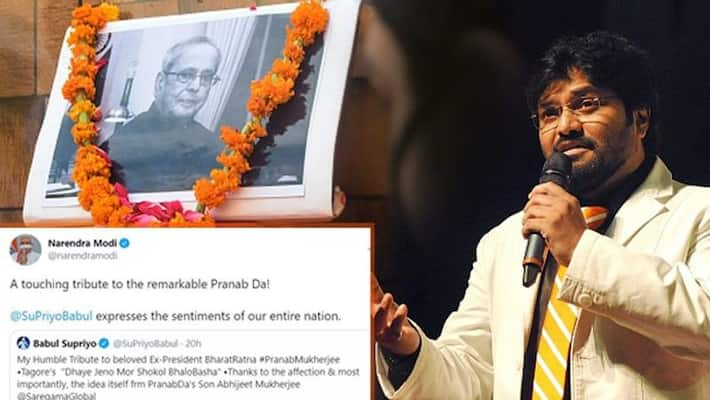 When Pranab Mukherjee was the President of India, he asked Babul Supriyo to sing a song at a function in Rajghat. The BJP leader could not disrespect Pranab Mukherjee's request. He sang a Rabindra Sangeet song for him. Pranab Mukherjee himself praised the song. Babul Supriyo recorded the song in memory of the former President and sent it to Pranab Mukherjee's family.
 Babul Supriyo had tweeted the link of the song on YouTube on Thursday (September 10).
He wrote on Twitter, "My Humble Tribute to beloved Ex-President Bharat Ratna Pranab Mukherjee. Tagore''s "Dhaye Jeno Mor Shokol Bhalo Basha". Thanks to affection & most importantly, the idea itself from Pranab Da''s Son Abhijeet Mukherjee @SaregamaGlobal (sic),"
Also read: WB Anandpur case: Victim mislead police with wrong information to save main accused
Prime Minister Narendra Modi on Thursday lauded the efforts of Union Minister Babul Supriyo as the latter paid a musical tribute to former President Pranab Mukherjee.
Narendra Modi tweeted, "A touching tribute to the remarkable Pranab Da! @SuPriyoBabul expresses the sentiments of our entire nation,"
The song has been doing the rounds on social media, more so after the Prime Minister's comments. Set to the track of Tagore's song, the video is a pictorial depiction of Mukherjee's life cutting across party lines. In the visuals, the former President is seen with Prime Minister Modi, President Ram Nath Kovind, former Prime Ministers Indira Gandhi, Rajiv Gandhi, PV Narasimha Rao, Manmohan Singh, and Atal Bihari Vajpayee. RSS Chief Mohan Bhagwat and Congress Interim President Sonia Gandhi are also part of the audio visual.
Also read: West Bengal: Hindu Brahmin donates land to build Muslim cemetery in East Burdwan village
Pranab Mukherjee's interaction with international leaders have also been touched upon with pictures along with the former first lady of the United States, Hilary Clinton, US former Presidents George W Bush, Barack Obama, and Bangladeshi Prime Minister Shiekh Hasina amongst others.
The Asansol MP thanked the Prime Minister for retweeting his tweet. However, the Union Minister not only thanked the Prime Minister, but also Pranab Mukherjee's son Abhijit Mukherjee.
It is known that Pranab Mukherjee always liked Babul Supriyo's song. After the death of Pranab Mukherjee, Babul went to his house to pay his respects. Abhijit Mukherjee, the son of the first Bengali President reminded Babul of the song. After that, the Union Minister decided to pay homage to Pranab Mukherjee with the song 'Dhaye Jeno Mor Sokol Bhalobasha.'
Last Updated Sep 11, 2020, 6:21 PM IST