PIB Fact Check: No, PM Modi is not giving Rs 15,000 to every Indian during coronavirus lockdown
A fake website link is being circulated on social media which claims PM Narendra Modi is giving Rs 15,000 to every Indian during the coronavirus lockdown. It is fake, please don't fill the fake form, says PIB Fact Check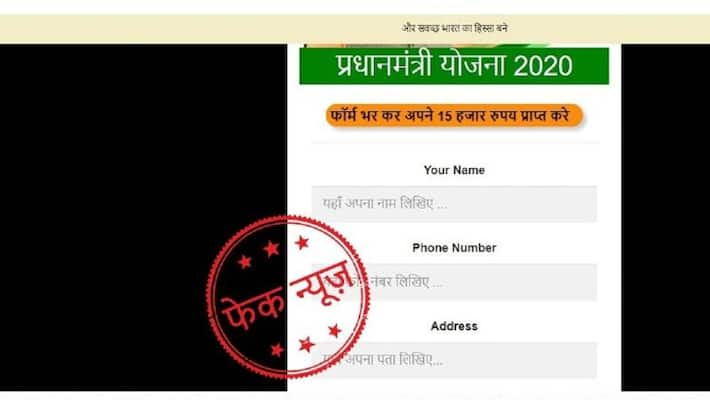 Bengaluru: Prime Minister Narendra Modi has extended the nationwide lockdown until May 3 to fight against the novel coronavirus (COVID-19) pandemic. Amidst this, there is news which claims PM Modi is giving Rs 15,000 to every Indian.
A website link is being circulated on social media where it claims those who fill the form will receive Rs 15,000 from PM Modi. However, it is fake news. Don't fall for this website.
Also read: These are AYUSH ministry guidelines which PM Modi asked Indians to follow
The Press Information Bureau's (PIB) Fact Check Twitter handle shared the screenshot of the same website and urged Indians not to fall for this fake link.
Also read: PM Modi's 7 steps to be followed during lockdown
"Claim: Amidst difficult circumstances, PM is giving Rs 15,000 help to every Indian, which has to be filled by clicking on the given link. Fact: This claim is completely false, and the given link is fake. Please stay away from rumours and fraudsters," PIB Fact Check tweeted on Tuesday (April 14).
In these difficult times, it is important to verify the messages what everyone receives on social media platforms. This is not the first time that fake news stories are posted on Facebook, Twitter, WhatsApp and other forums.
The Union and state governments have been updating citizens on a regular basis about the importance of staying at home during the lockdown. Also, they are urging everyone not to believe in rumours.
Last Updated Apr 15, 2020, 11:37 AM IST