Over 20 trains diverted after North East Express derails in Bihar
Four people died and 70 others were injured after six coaches of the North East Express derailed near Raghunathpur railway station in Bihar's Buxar district. Over 20 trains were diverted following the derailment.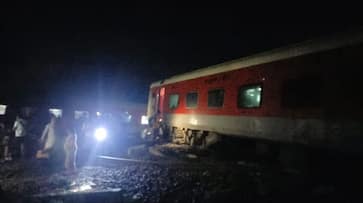 In the Buxar district of Bihar, the North East Express derailed on Wednesday night close to the Raghunathpur railway station, resulting in four fatalities and over 100 injuries, according to news agency PTI. The North East Express, coming from Anand Vihar Terminal in Delhi, was on its way to Kamakhya Junction in Assam's Guwahati when six coaches of the train derailed at 9:53 pm. 
The 23-coach train had departed the Anand Vihar terminal in Delhi at 7:40 am on Wednesday for its nearly 33-hour journey to Kamakhya.
At least 21 trains operating on the route, including the Rajdhani Express between Delhi and Dibrugarh, have been diverted. Two trains were also cancelled and they were -- Kashi Patna Jan Shatabdi Express (15125) and Patna Kashi Jan Shatabdi Express (15126), according to a statement issued by the East Central Railway zone.
East Central Railways' general manager said that a compensation of Rs 10 lakh to the family of deceased and Rs 50,000 to the injured people will be given. The railways has also issued emergency helpline numbers for passengers. These are 9771449971 (Patna), 8905697493 (Danapur), 8306182542 (Ara), 8306182542 and 7759070004.
The railway authorities in Patna's Danapur also issued helpline numbers.
According to a railway official, war rooms have been established for monitoring and early restoration of the carriages, and rescue activities are in full flow.
Evacuation and rescue activities have been concluded, according to Railway Minister Ashwini Vaishnaw. He expressed his sympathies to those who perished and promised that the administration will "find the root cause of the derailment." He stated that officials were concentrating on restoring the disrupted line and that a train to transport the stranded passengers to Guwahati had arrived.
Bihar Deputy Chief Minister Tejashwi Yadav issued a statement saying that the departments of disaster management and health have been asked to take immediate steps to ensure the quickest possible relief to as many people as possible.
Last Updated Oct 12, 2023, 9:09 AM IST