20 captive children rescued in UP; accused killed in police encounter, wife thrashed to death by locals
A low-intensity blast is also reported and Uttar Pradesh chief minister Yogi Adityanath had convened an emergency meeting. IG Range Kanpur was present at the hostage site where 20 children were held captive. Wife of the muder accused, who took 23 children hostage in UP's Farrukhabad, died after being thrashed by locals.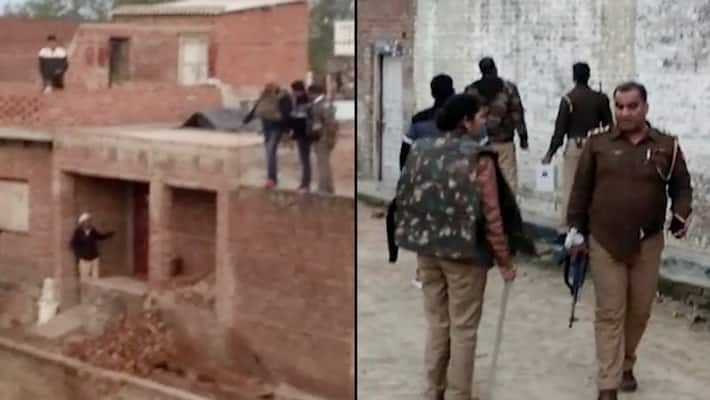 Farrukhabad: A man, convicted of murder, held over 20 children hostage after inviting them for his daughter's birthday party at his house in a village in Uttar Pradesh's Farrukhabad. He was killed on Thursday, January 30th night, police said.
All the children have been safely evacuated, the police added.
As many as 20 children and a few women were held hostage by murder convict Subhash Batham, who reportedly opened fire and threw a hand grenade at the police earlier. 
Batham's wife and his daughter were also in the house. 
In the latest update, wife of the muder accused, who took 23 children hostage in UP's Farrukhabad, died after being thrashed by locals.
"
Three police personnel and a villager were injured in the incident. Earlier, a team of NSG (National Security Guard) commandos had taken a special aircraft to reach Farukhabad, a senior security official in Delhi said.
Meanwhile, UP CM Yogi Adityanath has announced an award of Rs 10 lakh for the UP Police for successfully carrying out the operation. All personnel who took part in the operation will be given certificate of appreciation as well.
The accused seemed to be mentally unstable, said the cops.
The hostage drama began at Kasaria village in the afternoon. Hours later, the accused released a six-month-old girl by handing her over to his neighbour from a balcony, PTI quoted police officials as saying.
Accused Subhash Batham fired from inside the house on those who tried to speak to him, police said, adding that a man suffered a bullet injury.
The accused had sent out a complaint addressed to the district magistrate, alleging he was denied housing and toilets as per government schemes, according to reports.
Batham also wanted to talk to the local MLA, but he refused to speak to the leader when he arrived, police said.
Earlier, Adityanath had called a high-level meeting over the incident with the chief secretary, principal secretary (Home), DGP and ADGP (Law and Order).
Last Updated Jan 31, 2020, 9:29 AM IST