Old picture of princess Diana sitting in front of Taj Mahal goes viral; Check
Diana, Princess of Wales, belonged to the British royal family. She was the mother of Princes William and Harry and the first wife of King Charles III. The couple visited India in February 1992.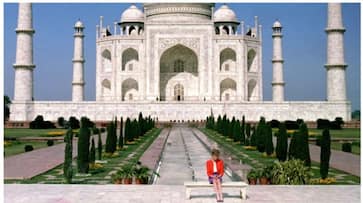 An old picture of Princess Diana sitting alone in front of the Taj Mahal, the monument of love, is doing rounds on social media. On the microblogging site "X" user "Mimansa Shekhar" posted a few pictures from Diana's trip to India. She also revealed the rumours that were circulating at the time about this. Diana is pictured in the widely shared photo relaxing on a bench in front of the beautiful Taj Mahal. 
The princess, who was 30 years old at the time, sits adorably in front of the monument and strikes a beautiful pose. She is wearing a purple skirt and shoes that go with it. However, if you look closely at the picture, you can see that the princess is lonely. Speculation regarding her separation from then-husband Prince Charles was sparked by this image. In addition, their divorce happened in the same year.
Several reports claim that rumours regarding the royal couple's marriage started to spread around 1992. And few days before Valentine's Day in February, when they began their official tour of India, everyone was observing them. Although their schedules clashed, it was anticipated that the royal couple would go to the magnificent monument together. Diana arrived at the Taj Mahal alone, though, while Charles was busy in meetings.
About 30 to 40 photographers were waiting to capture the princess at that precise moment. She said, when asked how she felt about the marble statue, "It was a fascinating experience, really healing."
In December 1992, shortly later, the couple declared their split. This did not, however, prevent them from carrying out their royal responsibilities. The pair formally divorced in August 1996. The princess passed away in a car crash in Paris on August 31, 1997, just one year later.
Last Updated Sep 3, 2023, 11:59 AM IST