NIT row: Outstation students protest in Delhi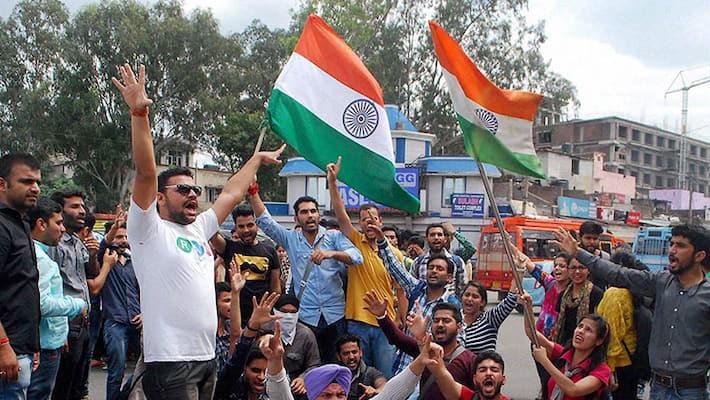 A group of outstation students from National Institute of Technology (NIT) Srinagar who protested in Jammu last night, staged a protest at Jantar Mantar in Delhi today,demanding relocation of their campus from Srinagar."We want the HRD ministry to pay attention to our demand of shifting the campus out of Srinagar and accountability to be fixed for the police action on students," an outstation student said. Another student added that they have raised their demands with the HRD officials who had visited the campus but they have been turned down. They also want withdrawal of all cases against non-Kashmiri students of NIT and full security to them.
Last night over 300 outstation students of NIT Srinagar staged a protest march in Jammu carrying banners, placards and chanting 'Bharat Mata Ki Jai,' demanding relocation of the campus. The NIT students along with Jammu Varsity students marched towards the Press Club of Jammu.
Apart from relocation of the campus, the students demanded the withdrawal of all cases against non-Kashmiri students of NIT and sought full security for them. "We were kept hostage in the NIT by the authorities and police and were not allowed to move out. We somehow managed to escape the campus and reached here", a protesting student said. Students of Jammu University were also seen protesting in support of the NIT students and blocked the road. Jammu and Kashmir National Panthers Party (JKNPP) also held demonstrations in support of the NIT students.
As reported by Indian Express, the Jammu and Kashmir Chief Minister Mehbooba Mufti on Tuesday, dismissed the possibility of relocating the NIT out of the Valley. "Let me make it clear that it is an issue within the institute and please do not give it a colour of local versus outsiders. The Human Resources Development Ministry is looking into the grievances of the outstation students and I am hopeful that it will be resolved soon. As far as demands of some students to shift the NIT campus out of Srinagar is considered, let me make it clear that it won't be possible," she said.
The whole clash started after the valley students celebrated India's defeat in the semi-final match against West Indies in the T20 cricket tournament. The so-called celebration provoked outstation students resulting in clashes and protests. Since then the situation inside the campus has been getting worse day by day. 
Last Updated Mar 31, 2018, 6:41 PM IST