Mizoram Election 2023: 3,000 police personnel, over 5,000 central forces to be deployed
Massive security deployment planned for the November 7 Mizoram assembly polls, with over 3,000 police personnel. Mizoram Chief Electoral Officer (CEO) Madhup Vyas said the poll panel is making massive efforts to ensure a smooth, free, fair and peaceful election.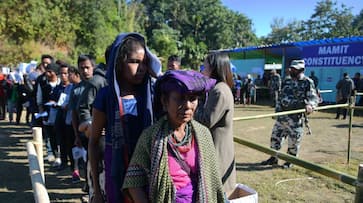 At least 3,000 police personnel and 450 sections of central armed police forces (CAPFs) will be deployed for the November 7 Mizoram assembly polls, a senior election official said on Wednesday. According to Madhup Vyas, the Chief Electoral Officer (CEO) of Mizoram, the poll panel is working extremely hard to guarantee a seamless, free, fair, and tranquil election.
"Mizoram has already been reached and their places of deployment are occupied by ten companies of Border Security Force BSF personnel and five companies of Central Reserve Police Force (CRPF) and Sashastra Seema Bal (SSB) personnel," Vyas said.
A section comprises 12 personnel. So, 450 sections will amount to 5,400 personnel of CAPFs. According to Vyas, the CEO office got many requests for a change in the counting date since it happened on a Sunday, which is a Christian holy day. The petitions were then passed to the Election Commission.
According to Vyas, plans have also been made to have a helicopter ready in Aizawl on election day. Since the poll was declared, cash, narcotics, alcohol, and other illegal items valued at Rs 36.32 crore have reportedly been recovered, according to the official.
The 40-member Mizoram Assembly will be chosen in a single wave of elections on November 7 and the results will be tallied on December 3. According to him, the central poll panel has not yet responded to the appeals.
More than 8.57 lakh voters, including 4,39,026 female electors, are eligible to exercise their franchise in the forthcoming assembly polls. Of the 1,276 polling stations, around 30 have been identified as critical, Vyas said.
Altogether 174 people, including 18 women, are in the fray for the polls. Two men and women each are contesting from two seats.
All 40 seats have candidates fielded by the Congress, Zoram People's Movement (ZPM), the largest opposition party, and the ruling Mizo National Front (MNF). The BJP and the Aam Aadmi Party (AAP) have nominated candidates for 23 and four seats respectively. Besides, 27 candidates are contesting as independents.
Last Updated Oct 26, 2023, 2:28 PM IST