Minor girl sits on strike in front of boyfriend's house as he refuses to marry her
A minor girl in Hingalganj sat on strike on the veranda of her boyfriend's house demanding that he marry her. The girl's boyfriend refused to marry her because she is a minor. But the girl was adamant on getting married. Police later appeared at the scene to solve the problem.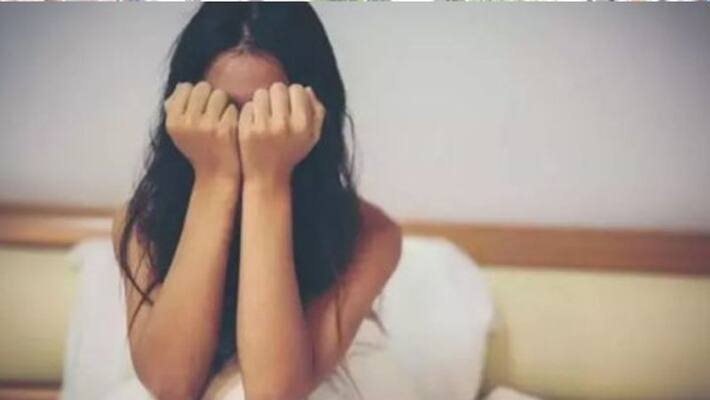 Kolkata: A shocking incident took place in Nabiganj village of Hingalganj in Basirhat. A minor girl wanted to marry her lover and sat on strike demanding the same. According to sources, the age of the girl is 17 and the age of the boy is 21. Both of them were in a relationship. The girl was obstinate on marrying her boyfriend. But the boy didn't want to marry a minor girl. Therefore, the girl sat on the veranda of her boyfriend's house demanding that they get married. The girl who sat on strike in the morning saw officials of Hingalganj police station arrive to solve the problem.
Also read: Ruling party is treating West Bengal Governor like the opposition: Dilip Ghosh
The minor girl is a resident of Kumirmari village of Chhota Mollakhali Police Station limits in South 24 Parganas. She came to her relative's house and met Mahadev Sardar, a resident of Nabiganj village in Hingalganj. Their love affair seemed to be going well for them. Both of them continued the relationship by talking over the phone for several hours a day. The minor girl claims that her boyfriend promised to marry her. But a few days ago, her boyfriend Mahadev broke up with her.
Not finding a way out, the minor girl went to her lover's house and sat on the veranda demanding to get married to him. The incident caused chaos in the area. Finally, the boy agreed to marry the girl. However, as the girl is 17-years old, the family of her boyfriend Mahadev Sardar did not agree to marry the girl as she is a minor.
Also read: BJP workers distribute offering of Ram Mandir Bhumi Pujan in Tarapith Temple
After receiving the news, the officials of Hingalganj Police Station reached the spot. As it is a crime to marry a minor, police said that when the girl turns 18, she will get married to the boy. Satisfied with the police's statement, the minor girl left her boyfriend's place to go to her house.
 
Last Updated Aug 26, 2020, 5:49 PM IST