BJP workers distribute offering of Ram Mandir Bhumi Pujan in Tarapith Temple
Offering of the Ram Mandir Bhumi Pujan in Ayodhya reached the Tarapith temple. The offering is being spread all over the country. BJP workers distributed the offerings in a grand manner.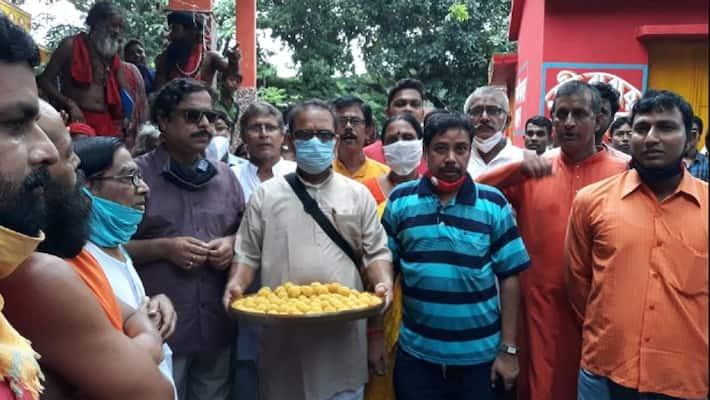 Kolkata: After sending the Yajna's water-soil and ashes to Ayodhya, the Bhumi pujan offerings of Ram Mandir came to Tarapith. Leaders of BJP and Vishwa Hindu Parishad distributed the offerings to people at the holy crematorium and East Sagar area on Saturday (August 22) morning.
Prime Minister Narendra Modi has worshiped the land of the Ram temple in Ayodhya. Everyone was panicked thinking about the huge gathering in Ram Temple. August 5 was the weekly lockdown in West Bengal. On that day, the BJP workers faced police obstruction while they were on their way to worship Lord Ram. Many people were arrested while going to the temple. The BJP claimed that the policemen vandalized the party office on the pretext of lockdown.
On the occasion of Bhumi Pujan of Ayodhya Ram Mandir, on 27th July, Yajna was organised on the premises of Tarapith Mandir with the holy water of Dwarka river. The soil of the crematorium was also used in the yajna. At the end of the Yajna, the ashes were filled in a brass jug and handed over to the leaders of the World Hindu Council. All the three brass jugs were brought to Kolkata and were sent to Ayodhya. Earlier, bricks were sent from Tarapith to Ayodhya during the puja.
Prabhat Kumar Ghosh, North Birbhum District President of Vishwa Hindu Parishad, said, "Offerings of Ayodhya were also distributed at Tarapith along with the rest of the country. I wish that all diseases, griefs, and obstacles will be removed by eating this offering."
Pulak Chattopadhyay, a devotee of Tarapith temple, said, "During the puja in Ayodhya, bricks were sent from Tarapith temple. Even before the Bhumi Puja of Ram temple, a yajna was performed in Tarapith temple. The Yajna's ashes, soil, and water from the river Dwarka was sent to Ayodhya. the offering received from Ayodhya will be distributed between the saints of the crematorium and the common people."
 
Last Updated Aug 22, 2020, 6:41 PM IST