Milk prices to be hiked by Rs 2 from January 1 in Bengaluru
The Bangalore Urban, Rural & Ramanagara District Co-Operative Milk Producers Societies Union Limited (BAMUL) president said the government and the union is thinking of aiding farmers by hiking the price of the milk by Rs 2 as desi cow's milk is more beneficial and more profitable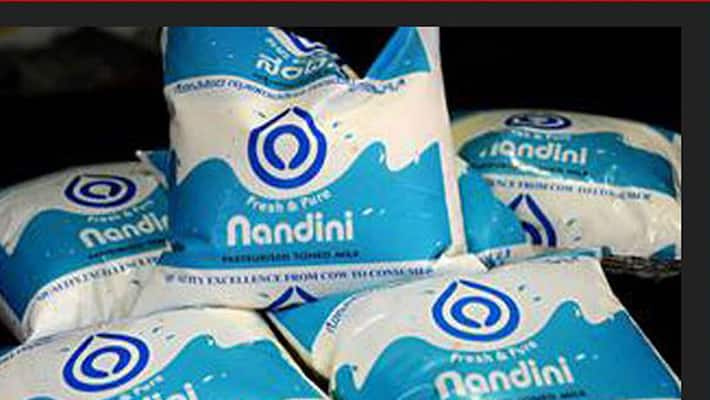 Bengaluru: The Bangalore Urban, Rural & Ramanagara District Co-Operative Milk Producers Societies Union Limited (BAMUL) president, Narasimha Murthy hinted at a price rise in milk rates from January 1, 2020.
Come January 2020, you will have to shell out 2 more rupees per litre for Nandini milk. After distributing desi cows to farmers in Milk producers' cooperative society's premises, BAMUL president Narasimha Murthy said, "The farmers are complaining that the prices of milk from BAMUL are too low. The board has been thinking of offering a higher price for the milk and increasing the rate by Rs 2 per litre."
He further added, "The cost of producing domestic breed cow's milk is less expensive and more profitable. Desi cow's milk and milk products are free of toxic ingredients and as these cows absorb energy directly from sun rays their milk and milk products such as yoghurt, buttermilk, butter, ghee, and energy have special medicinal properties."
"BAMUL is thinking of distributing a large quantity of desi cows' milk as it has the potential to prevent diseases and increase intellect in children. In the first phase, we have bought 120 desi cow breeds from Gujarat, Haryana and Rajasthan Gir and Amrithamahal. In the second phase, 120 more cows will be brought to Kanakapura," stated Narasimha Murthy.
Narasimha Murthy said it is very important to develop desi cows as their milk and milk products can benefit the farmers a lot.
"We have taken the first step towards developing desi cows. The government is considering developing desi cows in Karnataka. MP DK Suresh is doing a lot for the development of domestic cows," Murthy added.
Last Updated Dec 19, 2019, 3:43 PM IST