Meet Dr. Sankarasubramanian K from Bengaluru, Project Director of 'Aditya L1' mission
ISRO's Aditya-L1 solar mission aims to study the Sun with advanced instruments. Led by Dr. Shankarasubramanian K, it observes from Lagrange Point 1, providing vital insights into solar phenomena.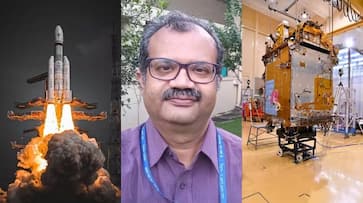 Following the recent triumph of India's Chandrayaan-3 lunar mission, the Indian Space Research Organization (ISRO) now poised another remarkable milestone with the launch of its maiden solar mission, 'Aditya-L1.' The historic event took place on Saturday at the Satish Dhawan Space Center in Sriharikota.
The primary goal of the Aditya-L1 mission is to thoroughly examine and study the Sun, marking India's entry into the field of solar research. To lead this mission, ISRO has selected the experienced solar scientist, Dr. Shankarasubramanian K.

Aditya-L1 successfully separated from PSLV after solar mission launch: ISRO chief S Somanath
Dr Shankarasubramanian K is an expert in solar studies, holding a PhD in Physics from Bengaluru University through the Indian Institute of Astrophysics. His research specialization includes solar magnetic fields, optics, and instrumentation. 
He has made important contributions to previous ISRO projects, including Astrosat, Chandrayaan-1, and Chandrayaan-2. Currently, he serves as the head of the Space Astronomy Group (SAG) at the UR Rao Satellite Center (URSC) in Bengaluru, responsible for crafting the payloads and scientific instruments for the Aditya-L1 mission.

Aditya-L1 Launch: Spectators flock to space centre as ISRO takes aim at another milestone; watch live here
The Aditya-L1 solar probe's primary objective is to conduct a meticulous examination of the Sun. This mission has been a collaborative effort between ISRO and various Indian research institutes. The mission's name, 'Aditya,' draws its inspiration from Sanskrit, signifying the Sun, while 'L1' refers to its strategic position at Lagrange Point 1 within the Sun-Earth system. Stationed at this crucial location, Aditya-L1 will be able to continuously observe the Sun without the interference of phenomena like eclipses.
ISRO has fitted the spacecraft with advanced instruments designed for exploring different layers of the Sun, including the photosphere and chromosphere. Key to this study will be the use of electromagnetic and particle detectors. The mission comprises four payloads dedicated to direct solar observation from the unique vantage point of Lagrange Point 1. Additionally, three more payloads will investigate particles and fields at this location, which will help us understand the Solar phenomenon.
Last Updated Sep 2, 2023, 1:47 PM IST