Mahua Moitra admits giving Parliament login credentials to Darshan Hiranandani; reveals 'gifts' received
Mahua Moitra has admitted to letting Darshan Hiranandani use her Lok Sabha login credentials to post questions that she claimed were hers. She also demanded that Darshan Hiranandani, who turned so-called approver in the cash-for-query case, should provide an itemised list of gifts he claims to have provided.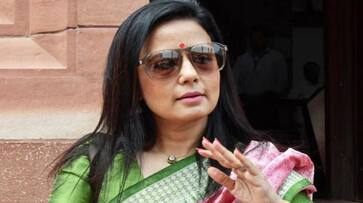 The CEO of the Hiranandani Group, Darshan Hiranandani, gave her "one scarf, some lipsticks and other makeup items including eye shadow," according to Trinamool Congress MP Mahua Moitra, who acknowledged on Friday that she had given him access to her Lok Sabha login information so he could post questions that she claimed were hers.
"The only stuff I got from Darshan Hiranandani were a scarf and a few lipsticks and cosmetics that he used to select from the duty-free section of the Dubai airport. And his the car comes to pick me up and drop me off in Mumbai," in an India Today interview.
Mahua Moitra acknowledged that she had given Darshan Hiranandani her Parliament login and password, but she defended this by arguing that there is no restriction on who may use the login. The TMC MP went on to say that her sister's child wrote in her inquiries and logged on from Cambridge as well.
According to her, the login credentials and questions are not entered by the MPs directly; instead, their team has access to them. "But after that, an OTP appears on my phone alone. It doesn't reach Darshan's mobile device." Moitra dismissed the accusations, saying "The questions are submitted only when I provide the OTP."
"The NIC login has no rules as to who can have the login or not. Every single MP's questions are given to their large teams. You are saying I have given it to a foreign entity. Darshan Hiranandani is a friend, and an Indian citizen. His passport has been made public," she said.
The Trinamool MP continued the interview by saying, "They have chosen the wrong person to bully." She further said, "I've given up everything to sit here, an dsome little Jharkhandi pitbull and some acrimonious ex-personal relationship is not going to be the end of me." She denied allegations of taking bribes from Mr Hiranandani and demanded that she be given the chance to cross-examine him.
Her comments follow claims that she asked questions in Parliament in exchange for gifts from Hiranandani. The parliament's Ethics committee has called her to give a defence on October 31, but Moitra has asked for an extension because of "pre-committed programmes" in her Krishnanagar constituency.
Last Updated Oct 28, 2023, 1:49 PM IST