Maharashtra: 10 dead in building collapse near Mumbai; child among 31 rescued, dozens feared trapped
As per initial information, 31 people have been rescued by locals after the building collapsed in the Patel compound area of the city.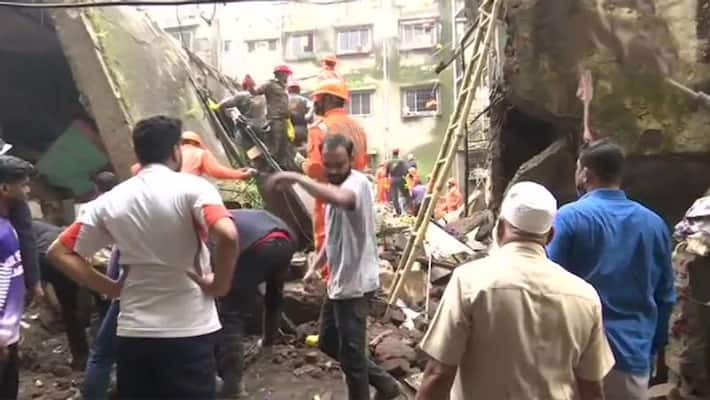 Mumbai: In a shocking incident in Maharashtra, at least 10 people were killed, and many are feared trapped after a three-storeyed building collapsed in Bhiwandi city of Thane.
As per the initial information, 31 people have been rescued from the rubble of the building in Patel Compound area. According to eyewitnesses, around 3.20 am there was a commotion in the Patel compound area. Half of the building which has 21 flats collapsed late at night while many of the residents were asleep.
A child was among the 11 people rescued by National Disaster Response Force (NDRF) officials. Rescue personnel pulled out a child from the debris and he has been rushed to a nearby hospital. Efforts are on to rescue other members. More than 40 emergency workers, including a team of 30 rescuers from the National Disaster Response Force (NDRF), are at the scene.
Prime Minister Narendra Modi offered condolences and prayed for quick recovery as the death toll reached 10 in a building collapse in Bhiwandi city of Maharashtra's Thane early Monday morning.
He tweeted, "Saddened by the building collapse in Bhiwandi, Maharashtra. Condolences to the bereaved families. Praying for a quick recovery of those injured. Rescue operations are underway and all possible assistance is being provided to the affected."
As per locals, the building was built in 1984. Around 20 families were staying inside the building, locals said.
Meanwhile, President Ram Nath Kovind offered condolences and said rescue and relief efforts are on in Bhiwandi.
"The loss of lives in the building collapse incident at Bhiwandi, Maharashtra is quite distressing. In this hour of grief, my thoughts & prayers are with victims. I wish speedy recovery of injured. Local authorities coordinating rescue & relief efforts," President Ram Nath Kovind said.
Last Updated Sep 21, 2020, 11:33 AM IST