The conversation in Pakistani print and electronic media around Indian Home Minister Rajnath Singh's visit to Islamabad has been almost absent.
Political parties too have refrained from giving their opinion. Perhaps politicians exhausted all the anti-India rhetoric in the run-up to the fiercely contested elections in Pakistan administered-Kashmir. Bilawal Bhutto Zardari of Pakistan Peoples Party during election rallies belted out slogans such as 'Modi ka jo yaar hai woh ghaddar hai' in a thinly veiled reference to Pakistani Prime Minister Nawaz Sharif.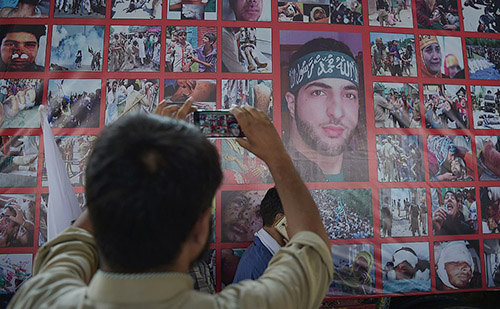 Pakistan Tehreek-e-Insaf, which earlier was never a major player in Kashmiri politics, decided to test the waters and mobilized support by promising independence to Kashmir during electioneering. Now that the elections are done and over with, PTI is gearing up for yet another dharna on Aug 7 in which PPP will be sharpening its edge against Pakistan Muslim League-Nawaz over Panama Papers issue.
Another reason for less chatter over his visit is significant political changes have taken place recently. For instance, Sindh was replaced by a new and young chief minister Syed Murad Ali Shah whose appointment was imminent, Nevertheless, the state of affairs in Sindh under the outgoing chief minister Qaim Ali Shah was discussed ad nauseum.
Tied to this development is the controversial extension of paramilitary force Rangers in Karachi and Sindh. The paramilitary force wants to extend its policing powers to entire Sindh which the Sindh government has refused leading to a tussle between the federal and provincial governments.
This is not to say that Pakistan is ignoring his visit completely. India's favourite, Hafiz Saeed, leader of Jamaatud Dawa and with links allegedly to Lashkar-e-Taiba, threatened to march to Attari-Wagah border as soon as Singh lands on Pakistani soil but this remains to be seen.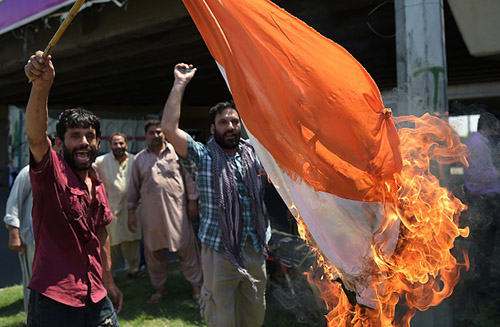 Going by past examples, chances are he will be 'allowed' to carry out his threat but he will not be given airtime. However, at around 11:20 am Geo News, a widely watched news channel, interrupted its regular programme to give "breaking news": Kashmiri children outfitted like recent Kashmir victims during the insurgency outbreak in Indian-administered Kashmir including pellet marks on their face are protesting on Azadi Chowk in Islamabad.
ARY News, another popular TV channel, aired a programme between 11-12 am with four guests weighing in on the issue. On Tuesday night, Newseye with Meher Abbasi also analysed Rajnath's visit.
By and large, the anchorpersons and panellists were concerned about Sharif-led government's perceived appeasement to India's demands citing previous examples. Concern was repeatedly raised whether Pakistani government would stridently raise with Singh the "barbaric acts committed by the Indian Army in Occupied Kashmir' and India's clandestine activities in Balochistan proven by the capture of Kulbushan Yadav. 
In India a right-wing group has burnt the Home Minister's effigy protesting the visit to Pakistan. Many in India feel talking to Pakistan or making courtesies with the neighbor is not in India's interest. But this is a multilateral visit and Singh will only engage with SAARC leaders with no exclusive meeting with his counterpart. This signals a sensible government approach to keep the channels open.
Kishalay Bhattacharjee is a senior journalist and author. His most recent book is Blood on my Hands: Confessions of Staged Encounters (Harper Collins 2015). The views expressed here are his own.