Pak returns Kirpal's body without heart and stomach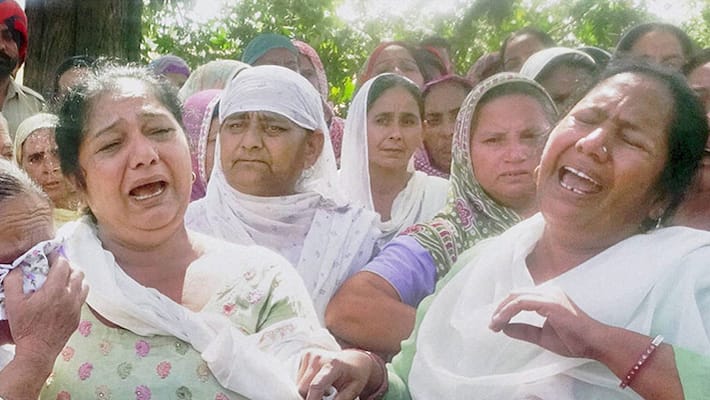 The body of Kirpal Singh, the Indian prisoner who was found dead under mysterious circumstances in Lahore's Kot Lakhpat jail, was handed over to the Indian authorities by Pakistan on Tuesday but with vital organs like heart and stomach missing from the body.
According to the Huffington Post, Dr. B S Bal, Principal of Government Medical College Amritsar told reporters that "during the post-mortem examination, it was found that Kirpal's heart and stomach were missing. However, no internal and external injury was found on his body."
He further revealed that "during autopsy it was also found that Pakistan has not taken any sample from kidney and liver which were essential to finding out the exact cause of death." Bal, however, assured that samples of his kidney and liver would be sent outside Amritsar for laboratory tests to bring out more facts about his death.
In 2013, Sarabjit Singh, another Indian prisoner was found dead in Lahore's Kot Lakhpat jail. After his body had been brought back to India, doctors found that many of his vital organs including the heart, gall bladder, and kidneys - were missing.
"My uncle has also given up his life for the nation. As he was the only witness in Sarabjit Singh's death, the Pakistan government feared this revelation (the truth about how Sarabjit died), so they plotted to kill him," Kirpal's nephew Ashwani told TOI.
Though Pakistani authorities claim that  Kirpal died due to a heart attack, his family members allege torture and foul play. 

Kirpal Singh, 54, had allegedly crossed over to Pakistan in 1992 and was arrested.He was subsequently sentenced to death in a serial bomb blasts case in Pakistan's Punjab province. However, due to unknown reasons, his death sentence could not be commuted.
Last Updated Mar 31, 2018, 6:42 PM IST