Khalistani terrorist Nijjar's killing: Month on, Canada fumbles to admit on sharing proof with India (WATCH)
Tensions have intensified between India and Canada after Canadian PM Justin Trudeau's allegations that India was involved in the assassination of pro-Khalistan leader Hardeep Singh Nijjar. Despite the claims, Canada has not shared its evidence with India, leading to a strained relationship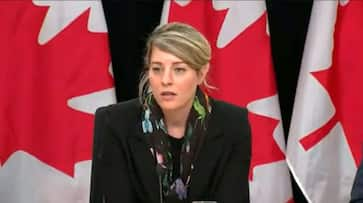 A month since Canadian Prime Minister Justin Trudeau told his country's parliament on Monday that their security agencies had 'credible' intelligence that the Indian government was behind the June 2023 murder of a pro-Khalistan leader in British Columbia, Hardeep Singh Nijjar, Canadian officials still do not openly state that they have shared the evidence in their possession with New Delhi.
On the sidelines of the media briefing on October 19 where Canada announced the withdrawal of 41 diplomats from India, Foreign Affairs Minister Melanie Joly was asked whether evidence had been shared with India and whether Canada had walked New Delhi through the case. A seemingly uncomfortable Joly gave an evasive response. She said: "We have had numerous conversations with India before the Prime Minister (Trudeau) went in front of the House and made his declaration. This was not a surprise to the government of India."
When prodded again for a specific response to the question, Joly further said, "And through these conversations, the Indian officials were made aware of the credible allegations. Based on that, India has decided to take their own decisions, which are precedent-setting and revoking the diplomatic immunity of 41 diplomats is not only unprecedented but also contrary to international law."
The relationship between India and Canada has significantly deteriorated following Prime Minister Justin Trudeau's recent public assertion linking Indian intelligence to the assassination of Khalistani terrorist Hardeep Singh Nijjar, an allegation vehemently denied by India.
Hardeep Singh Nijjar, an advocate for a separate Sikh state independent from India, was a fugitive wanted by Indian authorities on charges of terrorism and conspiracy to commit murder.
Canada has urged India to cooperate in the investigation, but New Delhi has vehemently rejected the accusations, responding with retaliatory measures such as the suspension of visa services for Canadians and the expulsion of an Indian diplomat.
India's External Affairs Minister, S Jaishankar, expressed his country's willingness to review any evidence presented by Canada while highlighting concerns about organized crime leadership operating from Canada, primarily referring to Sikh separatists. He underlined the threats faced by Indian diplomats, attacks on consulates, and unwarranted interference in Indian politics.
The Indian government has dismissed Canadian allegations regarding the assassination as "absurd" and issued advisories to Indian nationals cautioning them against traveling to specific Canadian regions due to heightened anti-Indian activities. Visa application processing for Canada was also temporarily suspended.
Nijjar, who had immigrated to Canada in 1997 and gained Canadian citizenship in 2015, was gunned down by masked assailants in the parking lot of a Sikh temple near Vancouver in June.
Canada is home to a sizable Sikh population, approximately 770,000 strong, constituting about two per cent of the nation's populace. Within this community, there is a vocal faction advocating for the establishment of Khalistan as a separate state.
The Sikh separatist movement has largely lost momentum within India, as the government employed forceful measures to suppress the insurgency in Punjab during the 1980s.
The escalating tensions between Ottawa and New Delhi present a diplomatic challenge for the United States, a close ally of Canada. The U.S. has been actively seeking closer ties with India as part of its strategy to counter Chinese influence in the region.
Last Updated Oct 20, 2023, 10:11 AM IST