Kerala: Woman strangled to death, dumps body in gorge to steal ornaments in Kozhikode
A woman identified as Sainaba was strangulated to death and dumped her body into a gorge on the Nadukani-Gudalur stretch. The woman was killed by her friend Samad, a resident of Malappuram, to steal her ornaments.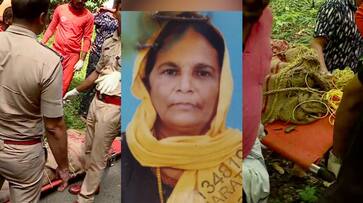 Kozhikode: A 57-year-old woman was strangled to death in Kuttikkattoor of Kozhikode district by her friend. After killing her, the accused Samad dumped her body in a gorge on the Nadukani-Gudalur stretch on Monday. The woman had been missing since November 7, the day when she was killed and her husband lodged a complaint with the police. The deceased is identified as Sainaba.
Also read: Kerala: Elderly man narrowly escapes being hit by Vande Bharat Express; [VIDEO]
Based on the statement of the accused, the Kasaba police reached the Nadukani Pass and found the dead body of the woman. Following the scientific examination of the decomposed body, the police confirmed that the deceased was Sainaba. After locating the body, the police officially recorded the arrest of Samad, a resident of Tanur, Malappuram. By Monday night, he would be taken to the Kasaba police station.
Samad admitted to the police that he strangulated the woman in order to obtain gold and money. Samad surrendered himself to Kasaba police on Monday morning, alleging he was the one who killed Sainaba. He admitted to killing the woman and disposing of her body in a gorge to the police. A police squad quickly arrived at the scene of the body's disposal. 
After the procedures, the dead body will be brought to Kozhikode Medical College. The body will be then handed over to the relatives after post-mortem. Sainaba's husband Mohammad Ali said that his wife had not been seen since the evening of the 7th and even though he contacted her several times on the phone, he was unable to reach her. The complaint was lodged at Kasaba Police Station, Kozhikode on November 8. Mohammad Ali said that he did not know what had happened.
His accomplice Sulaiman, who is said to have assisted him in strangling the woman to death, is being searched by the police.
Samad and Sulaiman offered Sainaba Rs 10,000 on November 7 in exchange for her caring for a bedridden person at Tanur, and they drove Sainaba there. Samad had intended to murder her at home. He altered the plan once his wife and daughter came home from the hospital. He informed Sainaba that as a family member had arrived at the residence of the bedridden man, they ought to return to Kozhikode. 
Sulaiman killed Sainaba by strangulation while the car was crossing Areekode. Afterward, the two damaged Sainaba's luggage and phone.
 
Last Updated Nov 13, 2023, 4:37 PM IST