Kerala: Elderly man narrowly escapes being hit by Vande Bharat Express; [VIDEO]
An elderly man narrowly escaped being hit by the semi-high-speed train, Vande Bharat Express in Kerala last day. The video of the man crossing the track and climbing onto the platform of Tirur Railway station went viral on social media.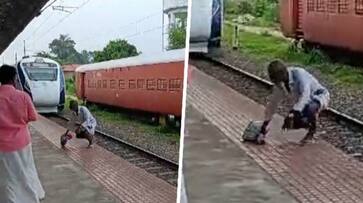 Malappuram: An elderly man who crossed the track at Tirur railway station narrowly escaped being hit by a Vande Bharat Express on Sunday (Nov 12). A native of Ottapalam miraculously survived. He stepped over the track and onto the platform as the Vande Bharat train passed the Tirur railway station. He narrowly managed to avoid being hit by the approaching train in a matter of seconds. At the train station, a passenger recorded the video.
The loco pilot and assistant loco pilot told Asianet News that the train passed at a speed of 110 kmph and it was a shocking experience. The loco pilot said that the old man survived only by luck. 
They said, "Our blood pressure (BP) was high and held our breath tight. We were unable to do anything as there was no stop at Tirur. The man did not move even after honking. We were surprised how he escaped."
Meanwhile, the Railway Police Force (RPF) has started an investigation and sought the help of the local police. The RPF collected the CCTV footage of the railway station. The investigation is centred around Ottappalam to find the man. The RPF will also file a case in the incident. 
Last Updated Nov 13, 2023, 2:57 PM IST