Kerala: Third crane to be unloaded from Zhen Hua 15 Chinese ship at Vizhinjam International Seaport today
The third crane, Super Post Pana Max, will be unloaded from the Zhen Hua 15 Chinese ship at Vizhinjam International Seaport today. The other two cranes were unloaded on October 21.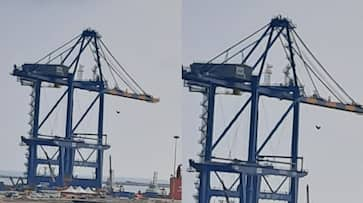 Thiruvananthapuram: The third crane, Super Post Pana Max, is set to unload at Vizhinjam International Seaport on Monday (Oct 23). The authorities said that the process of unloading was delayed due to rough sea conditions. They also stated that if the situation is favorable today, the crane will be brought ashore.
Meanwhile, the two yard cranes (rail-mounted gantry cranes) were unloaded by the authorities of the Vizhinjam International Seaport on Sunday. The first attempt was made to release the crane around 4 a.m. yesterday. However, due to strong sea turbulence, the attempt was abandoned at 8 a.m. The second attempt was started at 2.30 pm, when the rain calmed down. The task, which started at 2.30 pm, was completed in an hour, and the crane was placed on the birth at 4 pm.
The process of unloading the cranes at the port was delayed due to rough seas and legal hurdles for Chinese workers to get visas to land in India. However, Minister Ahmed Devarkovil said that the crew of the Chinese ship has been given permission to disembark on October 19.
The first ship from China, Zhen Hua 15, docked at Vizhinjam International Seaport Limited on Sunday, October 15. The Minister for Ports, Sarbananda Sonowal, and Kerala Chief Minister Pinarayi Vijayan welcomed the first ship.
The first of the three cranes was unloaded on October 20. The crane was brought down with the help of 60 experts from Mumbai at Shanghai PMC and the efforts of three more people who came on board.
The Vizhinjam International Transhipment Deepwater Multipurpose Seaport is an ambitious project taken up by the Government of Kerala. It is designed primarily to cater to container transhipment as well as multi-purpose and break bulk cargo.
The port's intended breadth is 150 meters. Reclamation of the sea would make available roughly 2.5 to 2.75 km2 (600 to 700 acres). The port would include two 1.5 km and 6 km breakwaters, as well as a harbor basin and wharves. There would be around 30 berths, the majority of which could accommodate mother ships.
Last Updated Oct 23, 2023, 11:29 AM IST