Kerala News HIGHLIGHTS: Consumerfed to open 1,500 markets this Onam
Kerala News HIGHLIGHTS: Consumerfed to open 1,500 markets this Onam.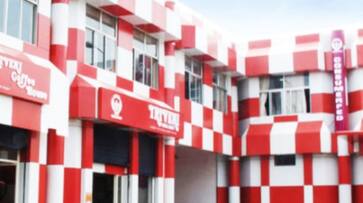 4.00 PM: MoS V Muraleedharan demands inquiry against Chief Minister's daughter Veena Vijayan over monthly quota case
---
3.30 PM: Consumerfed to open 1,500 markets this Onam
Consumerfed's Onam markets will start on the 19th of this month. In the face of severe inflation, the markets have been arranged in such a way that common people can get 13 items of daily use items at subsidized rates. Consumerfed is coming up with open markets at a time when there is a widespread complaint about the non-availability of subsidized items in the Supplyco outlets besides the increase in prices in the general market. About 1500 Onam markets across the state will start functioning.
---
2.50 PM: 'Chandy Oommen will have a historic win in Puthuppally bypolls', says Achu Oommen
Late former CM Oommen Chandy's daughter Achu Oommen said that her brother Chandy Oommen will have a historic win in the Puthuppally bypolls. The answers to the hate propaganda will be given by the people. Achu Oommen added that Oommen Chandy represented Pudupally for 53 years because he took development and care together. 
---
2.30 PM: Man accused of pushing wife into Sasthamcotta Lake arrested after 8 years
Shihab (41), a native of Thevalakkara, was arrested after 8 years for pushing his wife Shajeera into Sasthamcotta Lake and killing her. The incident took place on June 17, 2015. 
---
2.00 PM:  Congress requests EC to defer Puthuppally bypolls citing Manarcad church festival
This request has been made in light of the election's timing—September 1–8—which falls within the annual Manarcad religious festival. The District Collector and the Election Commission have both received applications on the matter, according to the Congress leadership.
---
12.00 PM: Kerala Assembly passes resolution unanimously to rename state as 'Keralam'
Chief Minister Pinarayi Vijayan said, "A resolution under Rule 118 is being moved in this House requesting the Central Government to change the official name of our state to 'Keralam' in all languages included in the Eighth Schedule of the Constitution of India. Before that, I would like to bring some important matters to the attention of the assembly."
---
11.45 AM: Mannarasala Amma Umadevi Antarjanam passes away
Umadevi Antharjanam (96), the chief priestess of Haripad Mannarasala Nagaraja temple, passed away on Wednesday (Aug 9).
---
11.30 AM: Man injured in car fire incident dies in Kottayam
Pandanchira Ottukunnel O.G Sabu (57) died on Wednesday as a result of the serious burn wounds he received when his car caught fire in Vakathanam. He had an 80% burn injury and was receiving treatment at the Kottayam Medical College hospital.
---
11.15 AM: Assembly proceedings cut short due to Puthuppally bypolls
The assembly session was adjourned in the event that the Puthupally by-election was declared. After the results of the Puthupally by-election, the Legislative Assembly, which will be dissolved tomorrow, will meet once again. It will take place from September 11 to September 14.
---
10.00 AM: Congress MLA Mathew Kuzhalnadan demands Chief Minister's response to Veena Vijayan controversy
Congress MLA Mathew Kuzhalnadan has demanded Chief Minister's response to the controversy related to the alleged illegal payment by his daughter Veena Vijayan from CMRL. He alleged that Veena acquired Rs 1.72 crore illegally. He added that the Chief Minister is obliged to make the people aware of this deal.
---
8.40 AM: Kerala CM's daughter Veena Vijayan in controversy over Rs 1.72 crore payment claim
In a recent report, Kerala Chief Minister's daughter Veena Vijayan allegedly received Rs 1.72 crore from a private company Company Cochin Minerals and Rutile Limited (CMRL) in monthly installments in the last three years.
Read More: Kerala CM's daughter Veena Vijayan in controversy over Rs 1.72 crore payment claim
---
8.15 AM: 'He was a hearty man', says actor Sai Kumar about director Siddique
The Malayalam industry lost the Godfather of comedy director Siddique Ismail on Tuesday. Several actors in the industry are mourning the loss of the ace filmmaker. Actor Sai Kumar said that Siddique was a 'hearty man' and he was the reason for the beginning of his acting career.
---
7.45 AM: Clamour for 'sainthood' for late ex-CM Oommen Chandy; CPI(M) alleges political agenda
Ever since the death of veteran Congress leader Oommen Chandy, common people have been visiting his grave and offering prayers by lighting candles. In the midst of this rising clamour for Chandy to receive sainthood, the topic took on the political significance on Tuesday when CPI(M) leader and state committee member K Anilkumar made the appeal not to turn the former CM into a "myth." In a letter, he expressed his suspicion that Congress's political objectives—which include the forthcoming Puthuppally byelections set for September 5—are what motivated the call to declare Chandy a saint.
---
7.45 AM: Govt to move resolution in Assembly today to rename state as 'Keralam' 
The LDF govt led by Chief Minister Pinarayi Vijayan on Wednesday (Aug 9) will move a resolution in the Assembly urging the Central government to rename the state as 'Keralam'. The government wants the state's name changed in the Constitution and other official documents to "Keralam." 
Last Updated Aug 9, 2023, 4:48 PM IST