Kerala News Highlights: CM Pinarayi Vijayan to hold press conference today at 6 pm
Kerala News Highlights: CM Pinarayi Vijayan to hold press conference today at 6 pm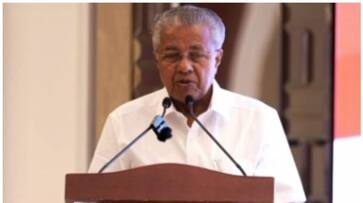 2.45 PM: Speaker AN Shamseer writes to Union Railway Minister seeking Vande Bharat stoppage in Thalassery
Kerala Speaker A N Shamseer has written to Union Railway Ministry Ashwini Vaishnaw seeking a stoppage at Thalassery for the second Vande Bharat. According to him the patients who reach the Malabar Cancer Center will be relieved.
---
2.00 PM: CM Pinarayi Vijayan to hold press conference today at 6 pm
---
1.15 PM: Malayalam film '2018' is India's official entry to Oscars 2024
In a proud moment for Kerala, Tovino Thomas starrer '2018' has made its official entry to the Oscars 2024, as reported by PTI.
Read More: Oscars 2024: Malayalam film '2018' starring Tovino Thomas is India's official entry
---
12.40 PM: Kozhikode youth set to represent India in Man of the Year beauty contest in Indonesia
Rohit Vijayan, a native of Chelanur, Kozhikode, is all set to represent India in the Man of the Year 2023 competition to be held in Bali, Indonesia. Rohit has been active in modeling since his school days. Contestants from 30 countries are participating in the competition organized by Sanment Entertainment based in Indonesia. Rohit has already participated in many beauty pageants and won the title. He was the title winner of Mr. India 2023 organized by Aura Productions. After receiving the title of Mr. India, he was directly selected for the World Man of the Year competition. Models from 30 countries are competing in the competition. The competition will be held in Bali in November.
---
12.15 PM: Man sets flat on fire to kill his elderly mother over delay in providing food in Pathanamthitta 
A young man allegedly set fire to his elderly mother's flat as she was running late to prepare meals. The incident took place at Omallur Puthanpeedika in Pathanamthitta. The man identified as Jubin was taken into police custody.
---
11.45 AM: Palakkad youths death sends shockwaves across district; Grandmother of one deceased burst into tears
The death of missing youths has sent shockwaves in Palakkad district. Satheesh and Shijith died from an electric shock that was set up to trap wild boar by an individual Ananthan. Due to fear, Ananthan tried to destroy the evidence and buried them. Satheesh's grandmother Kunja told Asianet News that the boy usually does not hang out anywhere. "I don't know what happened. He is always present at home. The other day he had a fight and came home late. Usually, he is never late. They only go somewhere for a feast or something."
---
11.00 AM: Two-year-old bitten by dog in Thrithala
A two-year-old boy was bitten by a dog at Anakkara in Thrithala. The incident happened around 8 pm last night. The child is admitted to Thrissur Medical College. He has suffered injuries on one ear. 
---
10:35 AM : Health Department issues dengue warning in Kozhikode
The Kozhikode district medical officer has advised caution regarding rising cases of dengue fever in Kozhikode. He advised keeping the home and areas properly cleaned. The symptoms of dengue include fever, diarrhoea, body pain, vomiting, etc.
---
10:05 AM: Student dies after car rushes into wall in Kozhikode
A student died after his car rammed into a wall on the Nadapuram-Thalaseri state highway in Kozhikode on Tuesday. The deceased was identified as CK Muhammad Sinan, a native of Iringanur. The accident happened at 12 o'clock last night. The body was shifted to the district hospital. The person who was in the car was admitted to a private hospital in Kozhikode with injuries.
---
9:31 AM: Karuvannur fraud case: Investigation to higher ground, court to consider custody plea today 
The investigation into the Karuvannur bank fraud case has taken a political turn as it appears to involve allies of the Communist Party of India (CPM). The Enforcement Directorate (ED) has asserted that political leaders connected to the accused individuals are implicated in the scam. The ED has announced that PR Aravindakshan and Jills will be taken into custody today on part of the ongoing investigation.
---
8:40 AM: Irregularities found in CPI (M)-controlled Kuttoor Service Cooperative Bank
The audit report of the Kuttoor Service Cooperative Bank, currently under the control of the CPI (M), has been released, revealing various irregularities. The bank's operational scope violated regulations, resulting in extensive financial losses. The construction of a new building was carried out in violation of the law. A loan of Rs 20 lakh was granted to the wife of the party area secretary at an inflated address. However, the area secretary stated that the Rs 20 lakh loan was taken earlier for medical treatment and was repaid before the deadline
---
8.23 AM: Chances of heavy rainfall in Kerala; Yellow alert in 9 districts on Thursday
Kerala will receive heavy rainfall starting today. A yellow alert has been sounded in Alappuzha, Kottayam, Ernakulam, Idukki, Thrissur, Malappuram, Kozhikode, Kannur and Kasaragod districts on Thursday (Sep 28). A cyclone will form in the Andaman Sea by the next day. In the next 24 hours, it will become low-pressure. As a result of this effect, the rain will become active.
---
8.14 AM: Bodies of two missing youths found buried in Palakkad
Two bodies of youth were found buried in a barren field at Karingarapully near St Sebastian English Medium School, Kodumbu, about 2 km from Palakkad Town on Tuesday. According to the latest report, the land owner had set an electric trap in the field to capture the pig, however, the youths fell into the trap. Knowing that they died, the landowner buried them.
Read More: Kerala: Two youths die from electric trap set for wild boars; land owner buries bodies in Palakkad
Last Updated Sep 27, 2023, 5:05 PM IST