Kerala News Highlights: No untimely fireworks allowed in places of worship: Kerala HC
Kerala News highlights: No untimely fireworks allowed in places of worship: Kerala HC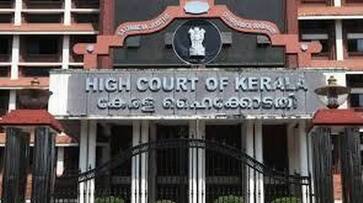 5.30 PM: No untimely fireworks allowed in places of worship: Kerala HC
High Court has imposed a ban on untimely firecrackers in places of worship. The High Court said that no holy book says to burst firecrackers to please God. Firecrackers cause noise and environmental pollution. The court also ordered to search and seize the fireworks illegally stored in places of worship. The court asked the district Collectors to ensure this. The High Court's order came on a petition seeking a ban on firecrackers in the Maradu temple. 
---
4.15 PM: IMD revises rain alert; Yellow alert in 11 districts
The IMD has revised the rain alert on Friday. The orange alert earlier issued in Idukki, Kozhikode and Wayanad will continue and yellow alert has been sounded in all the remaining districts.
Read News: Heavy rainfall to continue in Kerala for next three days; IMD issues orange, yellow alerts; Check details
---
4.00 PM: Kalamassery blast case: Identification parade of accused completed
The identification parade of the accused was completed on Friday (Nov 3). The identification parade was held at Kakkanad District Jail. Three people who were in the hall at the time of the blast were brought for identification and all of them identified the accused Dominic Martin.
---
3:18 PM:  KSRTC to provide special services to Mysore and Bangalore during Diwali season
Kerala State Road Transport Corporation will provide special bus services from various centers in Kerala to Bengaluru and Mysore from November 5 to November 15. The KSRTC also informed that more services will be arranged according to the rush of passengers.
---
3:00 PM: Man sentenced to 32 years imprisonment for sexually assaulting minor boy in Kasaragod
A man was sentenced to 32 years of imprisonment and imposed a fine of Rs 60,000 for sexually assaulting a minor boy in Kasaragod. The accused has been identified as Mohanan (63). The Hosdurg Fast Track Special Court has passed the sentence after the trial
---
2:03 PM: Supreme Court grants permission to destroy Aravana at Sabarimala
The Supreme Court of India has granted permission to destroy the Aravana at Sabarimala. This decision comes in light of the detection of pesticide traces in the cardamom used in the Aravana. The court has directed both the state government and the Devaswom Board to take necessary steps to carry out this action
 
---
1.00 PM: Rain update: IMD revises alert; Orange alert in 3 districts, yellow alert in 9 
Kerala will receive heavy rainfall today and the IMD has sounded an orange alert in 3 districts - Idukki, Kozhikode and Wayanad. A yellow alert has also been sounded in 9 districts including Thiruvananthapuram, Kollam, Pathanamthitta, Alappuzha, Ernakulam, Thrissur, Palakkad, Malappuram and Kannur.
---
12:32 PM: Congress MLA Mathew Kuzhalnadan urges youth to fight against corruption
Congress MLA Mathew Kuzhalnathan said that youth should fight against the corruption happening in the state. He also stated that he alone could not end corruption in the state. The government is misusing various departments to hide the corruption going on in the state.
---
12.00 PM:  SC rejects state government's petition against Shajan Skariah's anticipatory bail
The Supreme Court on Friday (Nov 3) rejected the Kerala government's petition against Marunadan Malayali editor Shajan Skariah's anticipatory bail. The plea filed by the state government against the High Court order was dismissed. The Supreme Court said that the High Court's reference in the anticipatory bail order should not affect the trial of the case. Senior Advocate Jayant Muthuraj and Standing Counsel Nishe Rajan Shonkar appeared for the State.
---
11:29 AM:  Cop suspended for sending obscene videos to a woman in Kozhikode
A police officer from Pantheeramkavu police station was suspended for sending obscene messages and videos to a woman in Kozhikode. Sub-inspector Harish Babu was suspended by Kozhikode City Police Commissioner Rajpal Meena. 
---
10:52 AM: Young man hacked to death in Pattambi; friend in custody
A youth was hacked to death in Pattambi. The deceased was identified as Ansar. His friend is in police custody. Mustafa, a native of Kodalur, was taken into custody by Trithala police from Vadakanchery on Thursday night.
---
10:22 AM: CPM calls pro-Palestine rally, Muslim League's participation doubtful
A Palestine solidarity rally, organized by the CPM, is scheduled to take place at Sarovaram Trade Center in Kozhikode on November 11. The rally will be inaugurated by Chief Minister Pinarayi Vijayan, who will extend invitations to notable figures from various domains, including politics, religion, society, and culture. Many Muslim organizations, including Samasta, have been invited to participate in the event. This move by the CPM is seen as an effort to involve the League while sidelining the Congress for this gathering. Congress leaders including Ramesh Chennithala and VD Satheesan called the League leaders and expressed their disagreement. After this, there is a possibility that the league will withdraw from participating in the rally. The National Secretary ET Muhammad Basheer MP had said the other day that if the League is invited to the Palestine Solidarity Rally of the CPM, it will definitely participate.
Read More: Kerala: CPI(M) calls pro-Palestine rally, Muslim League's participation doubtful
---
9:47 AM: Three students go missing in Malappuram
Three school students have gone missing in Malappuram.  Muhammad Adil (15), Muhammad Nasal (15) and Jaganathan (15), natives of Marancheri, are missing.  The Perumbadappu police have started an investigation into the incident. According to the police, the children had reached the Kuttipuram railway station. The police have received the CCTV footage of the Kuttipuram railway station.
---
9:40 AM: 1 kg of gold seized at Cochin Airport
One kilogram of gold was seized from three passengers at Cochin Airport today. Zakaria, Hisham Marshad, and Ijaz tried to smuggle gold.
---
9:06 AM: Biker found dead on road in Pathanamthitta
A biker was found dead on the road in Pathanamthitta, Pullad on Friday (Nov 3). The bike was stuck in a ditch on the roadside. The deceased was identified as Ajesh Kumar (31)
---
8.22 AM: After electricity, Kerala govt to hike water tariffs
After increasing the electricity charges, the LDF government in Kerala is reportedly going to hike water charges by 5 percent from April 1. The water authority will make a recommendation to the government in February regarding the increase in charges. This is according to the condition put forward by the central government to raise the borrowing limit. From April 2021, there is a 5 percent hike in the base tariff. The central recommendation is to continue this every year.
---
8.15 AM: Ernakulam POCSO court to deliver Aluva murder case of minor girl verdict tomorrow
The verdict will be pronounced on Saturday (Nov 4) in the brutal rape and murder case of a five-year-old girl in Aluva. The Ernakulam POCSO Court has completed the trial in 26 days. Asafaq Alam, a native of Bihar, has been booked with 16 charges including murder and rape.
---
8.10 AM: Heavy rains to lash Kerala today; IMD issues orange, and yellow alerts in various districts
Heavy rains will continue to lash in Kerala today. The India Meteorological Department (IMD) has sounded an orange alert in Idukki district today. Today yellow alert has been announced in Kollam, Pathanamthitta, Ernakulam, Thrissur, Palakkad, Malappuram, Kozhikode, Wayanad, and Kannur districts. At the same time, an orange alert has been issued in Idukki and Pathanamthitta tomorrow, and a yellow alert in Thiruvananthapuram, Kollam, Alappuzha, Kottayam, Ernakulam, Thrissur, Palakkad, Malappuram, Kozhikode and Wayanad districts.
Last Updated Nov 3, 2023, 6:00 PM IST