Kerala: CPI(M) calls pro-Palestine rally, Muslim League's participation doubtful
The CPI(M) of Kerala invited the IUML and Samasta for the pro-Palestine rally to be organised in Kozhikode on November 11. The Muslim League is an ally of the Congress-led UDF and therefore the latter voiced their disapproval.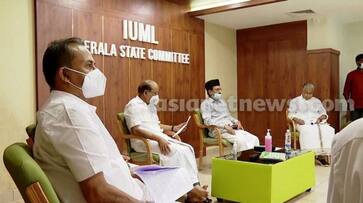 Kozhikode: The Communist Party of India (Marxist) sent an invitation to the Muslim League, an ally of the Congress-led-UDF, to their Palestine Solidarity Rally in Kozhikode. CPM District Secretary P. Mohanan said that the League would be invited to Chief Minister Pinarayi Vijayan's inaugural rally at Sarovaram Trade Centre on November 11.  He also welcomed the statement made by Muslim League leader E.T. Mohammed Basheer that they would go to the function if invited. The move of CPM is to invite the League by sidelining the Congress to this event. The Congress is being sidelined by citing MP Shashi Tharoor's pro-Israel remark at the rally organized by the Muslim League last week. 
Also read: At Kozhikode rally, IUML calls Israel a terror-state, Congress invokes Gandhi to seek end of Gaza bloodshed
However, Congress leaders including Ramesh Chennithala and V D Satheesan called the League leaders and voiced their disapproval. The Muslim League on Friday said that they will decide tomorrow on the invitation to participate in the rally. IUML leader P.M.A. Salam responded that now it is not the political scenario like that happened for the Uniform Civil Code (UCC) in India, but an international human rights issue. 
MLA M K Muneer said that what Basheer said was a personal opinion. He said that although the party is a part of UDF, the Muslim League takes the decision on this issue and clarified that there was no consultation in the party. In this regard, the party will collectively deliberate and make a decision. Congress can decide whether to hold a Palestinian solidarity program. There is no need for the Muslim League to interfere in the internal affairs of another party.
Muneer clarified that now is not the time to say anything about CPM's tactics. "The party did not hold a consultative meeting. No decision can be taken without consulting the party."
Also read: Congress stand on Israel-Hamas war based on vote-bank politics: BJP
Last Updated Nov 3, 2023, 11:55 AM IST