Kerala farmer takes Audi A4 to sell vegetables in roadside market (WATCH)
In a surprising turn of events, a farmer in Kerala has been seen selling vegetables while sitting in an Audi A4 car worth Rs 52 lakh. This unusual sight has caught the attention of locals and gained popularity on social media.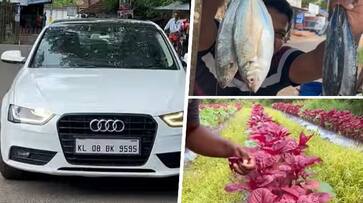 Farming is one of the areas that is changing as a result of technical breakthroughs that are revolutionising practically every business and increasing their profitability. The industry is frequently linked to farmers who toil long hours in the fields for relatively little profits. But as the years have passed, more young people have begun to enter fields like organic farming and other related fields in an effort to counteract corporate control and embrace entrepreneurship.
Sujith, a young farmer from Kerala who was involved in one such endeavour, attracted attention when he arrived in an Audi A4 luxury automobile to sell vegetables in a roadside market. Sujith is seen in the video producing crops from a field and then carrying them in an autorickshaw while he drives his Audi to the market. 
The following scene in the film has him setting up a plastic sheet on which to arrange the veggies before selling them. The product quickly runs out as residents arrive to buy the harvest. He exits in his posh automobile after selling all of the produce.
According to reports, Sujith bought this Audi as a used vehicle. Speaking of the vehicle, it is powered by a 2.0-liter, 4-cylinder petrol engine that has a maximum torque of 320 Nm and 204 horsepower. This sedan's powertrain is coupled to a 7-speed TC gearbox. The Audi A4 accelerates from a complete stop to 100 km/h in under 7.1 seconds. One must pay between Rs. 44 lakh and Rs. 52 lakh to purchase a new Audi A4.
Last Updated Sep 30, 2023, 12:38 PM IST