Kerala: Entry to all beaches in Thiruvananthapuram banned until further notice
District Collector Geromic George has announced that entry to all beaches in Thiruvananthapuram district has been banned until further notice. The action is taken in view of the continuing heavy rains in the district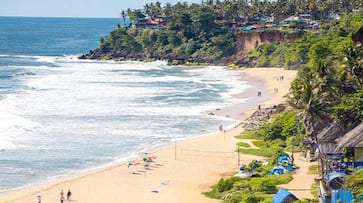 Thiruvananthapuram: District Collector Geromic George has announced that entry to all beaches in Thiruvananthapuram district has been banned until further notice. The action is taken in view of the continuing heavy rains in the district and the fact that the India Meteorological Department and the State Disaster Management Authority announced an orange alert in the district the previous day.
At the same time, the Collector has instructed the concerned to immediately remove the garbage accumulated under the Vizhinjam Harbour footbridge across the Gangayar stream and to take steps to cut the tree that has fallen into the stream.
Meanwhile, the collector has announced holidays for schools in Thiruvananthapuram districts due to continuous rainfall yesterday. The Central Water Commission has issued an alert after the increase in the water level of the Neyyar and Karamana rivers.
A holiday has been declared today (October 4) completely in Kottayam district and partly in Cherthala taluk of Alappuzha district in view of continuing heavy rains. The Alappuzha district collector has announced a holiday for educational institutions running relief camps in Cherthala taluk. In Thiruvananthapuram district, all educational institutions, including professional colleges and central schools, are closed. The holiday is due to the ongoing heavy rains in the district. The India Meteorological Department and the Kerala State Disaster Management Authority declared an orange alert for these states yesterday (Oct 3).
According to preliminary estimates, since September 25, torrential rains have damaged crops worth Rs. 43.57 lakh in the district. 133 farmers lost their 6.89 hectares of various agricultural crops. With Rs 21 lakh worth of crops damaged on 1.40 hectares, Neyyattinkara block has sustained the highest agricultural damage. The Department of Agriculture reports losses of Rs. 6 lakh in Aryancode, Rs. 62,000 in Kattakada, Rs. 10 lakh in Parassala, Rs. 2.4 lakh in Pulimath, and Rs. 3.55 lakh in Vamanapuram.
The Indian National Centre for Ocean Information Services (INCOIS) has issued a warning for the Kerala coast, stating that high waves and storm surges, ranging from 0.5 to 2.0 meters, are expected until 11:30 p.m. on October 4. The National Oceanic and Atmospheric Research Centre has informed that there is a possibility of a 0.5- to 2.5-metre-high wave and storm surge along the southern Tamil Nadu coast on April 10, 2023 until 11.30 p.m.
Last Updated Oct 4, 2023, 12:28 PM IST