At Kozhikode rally, IUML calls Israel a terror-state, Congress invokes Gandhi to seek end of Gaza bloodshed
A massive rally was organised by the Indian Union Muslim League (IUML) for its Human Rights Rally on Thursday (Oct 26) urging Israel to stop war against Palestine.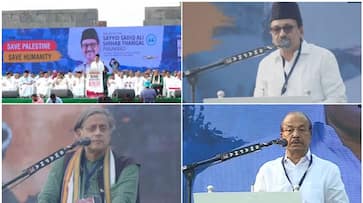 Kozhikode: Tens of thousands of people joined a strong demonstration of solidarity by the Indian Union Muslim League (IUML) with a Human Rights rally to support the Palestinians amid a war with Israel. MLA and National General Secretary of IUML PK Kunhalikutty presided at the event. The massive rally took place in Kozhikode on Thursday (Oct 26). The event was inaugurated by IUML Chairman Panakkad Sayyid Sadiq Ali Shihab Thangal, with Congress MP Dr. Shashi Tharoor as the special guest. 
PK Kunhalikutty stated his conviction that the oppressed Palestinians' sincere prayers will one day be fulfilled.
Sadiq Ali Thangal opined that what the Palestinians are doing is resistance against the invasion. He also questioned India's stance of not standing with Palestine at the league rally. He pointed out that India is a country that has always strongly opposed the Israeli occupation. Earlier, India was the country that recognized the hidden agenda of the formation of Israel. Mahatma Gandhi strongly opposed the Israeli occupation. Jawaharlal Nehru and others were the leaders who stood on the side of justice.
The Muslim League also reminded that even BJP leader and former Prime Minister Atal Bihari Vajpayee had took a similar stand, however, the present rulers of the country have diluted that policy. Israel is one of the major causes of terrorism in the world, according to Thangal, and anyone who supports Israel is complicit in these crimes. He underlined that the Palestinian people's resistance is what keeps them alive, highlighting their ongoing battle.
"The very breath of Palestine is resistance. Palestine is fighting for survival. There should be peace," he said.
According to Tharoor, Israel's continuous bombardment of Gaza in retaliation for Hamas' terrorist attack on October 7 is no longer appropriate. Israeli bombardment has killed over 6,000 Palestinians, while over 1,400 have died as a result of Hamas attacks. The saying "an eye for an eye will make the whole world blind" was echoed by Tharoor in reference to Mahatma Gandhi.
"Israel refers to their operation as 'Swords of Iron,' but those swords are now steeped in the blood of children," stated Tharoor. He then reminded the assembled audience—of which the great majority was in support of the Muslim League—that the current Middle East problem was 'not a Muslim issue, but a human rights one."
 
Last Updated Oct 26, 2023, 9:11 PM IST