Congress stand on Israel-Hamas war based on vote-bank politics: BJP
Several people joined a strong demonstration of solidarity by the Indian Union Muslim League (IUML) with a Human Rights rally to support the Palestinians amid a war with Israel in Kozhikode on Thursday (Oct 26). In response, the BJP leaders of Kerala have come forward against the pro-Palestine rally.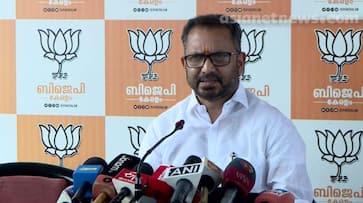 Thiruvananthapuram: Bharatiya Janata Party (BJP) state president K Surendran on Friday (Oct 27) said that the pro-Palestine rally organised by the Indian Union Muslim League (IUML) at Kozhikode beach yesterday was against India's official stand. He said that Congress MP Shashi Tharoor and others are trying to win votes through communal polarisation. The BJP leader also slammed such protests in Kerala as an attempt to win the votes of one section of the society in view of the upcoming Lok Sabha elections. He also accused the state government and the Opposition of taking opportunities for communal appeasement.
Also read: At Kozhikode rally, IUML calls Israel a terror-state, Congress invokes Gandhi to seek end of Gaza bloodshed
Surendran also informed that the BJP will lay siege at the Secretariat on October 30 in protest against the LDF-led CPI(M) government. BJP National President J P Nadda will inaugurate the strike. Speaking about the alliance JD(S), he said that the former is with the NDA and demanded that the two JD(S) MLAs from the state also join the NDA front or they should resign. He affirmed that as Kerala JD(S), they cannot take an independent stand.
'What Shashi Tharoor said is correct but...' BJP leader-actor Suresh Gopi on pro-Palestine rally
BJP leader and actor Suresh Gopi supported Congress MP Shashi Tharoor who called Hamas terrorists at the Muslim League rally. He criticized Shashi Tharoor saying that there was truth in what he said but the remark was part of vote bank politics. The BJP leader also asked whether the Muslim League organised a rally to express solidarity with Palestine or Hamas. He said that supporting Hamas is like saying that we will support its terrorists for the liberation of Jammu and Kashmir.
Congress MP Shashi Tharoor justifies his statements made during pro-Palestine rally
Thiruvananthapuram MP Shashi Tharoor slammed his opponents on Friday for circulating a false impression that he supported Israel. He went on to say that his sympathies have always been with the Palestinian people and that he disagrees with the spread of a single quote from his address at the IUML demonstration.
"It is unfortunate that people are trying to interpret a few seconds from a 30-minute speech. I have no words for such people," he said while speaking to the media.
"Somewhat bemused to learn of the attacks on me by those who, out of a 32-minute speech, have chosen to dwell on the 25 seconds in which I denounced the terrorist attacks of October 7 that triggered the current cycle of violence & disproportionate retribution. If that's all it takes to negate my support for the human rights of the Palestinian people, then I have nothing more to say," he said. 
During the Kozhikode rally, Tharoor said that Israel's continuous bombardment of Gaza in retaliation for Hamas' terrorist attack on October 7 is no longer appropriate. Israeli bombardment has killed over 6,000 Palestinians, while over 1,400 have died as a result of Hamas attacks.
Last Updated Oct 27, 2023, 12:58 PM IST