Kerala Cabinet ratifies proposal to hike liquor duty by 10-35% per case in state
The state Cabinet in a meeting held on Wednesday decided to impose additional cess on liquor. COVID cess of 10% to 35% will be imposed on foreign liquors.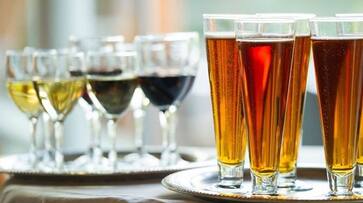 Thiruvananthapuram: On Wednesday, the state Cabinet decided to hike liquor duty by 10-35% per liquor case to mop up additional revenue to fight against COVID-19. With the cess imposed, the price of foreign liquor will increase considerably in the state.
Around 10 per cent duty would be increased for beer and wine, while it would be around 35% for Indian Made Foreign Liquor. 
A liquor case which costs over Rs 400 per case will see an increase of 35% duty, while the price of a case that costs below Rs 400 will be slapped a 10% hike. The details of this would be announced by the chief minister in the evening.
Five new coronavirus cases were reported as of 8am on May 13 in Kerala, according to data released by the Ministry of Health and Family Welfare. This brings the total reported cases of coronavirus in Kerala to 524. Among the total people infected as on date, 489 have recovered and four have passed away.
Last Updated May 13, 2020, 2:51 PM IST