Karnataka: Talacauvery gears up for low-key Theerthodbhava
Kodagu is gearing up for its much-awaited annual festival Theerthodbhava on October 17. However, due to COVID-19 the festivities are going to be low-key this year and no visitors will be allowed.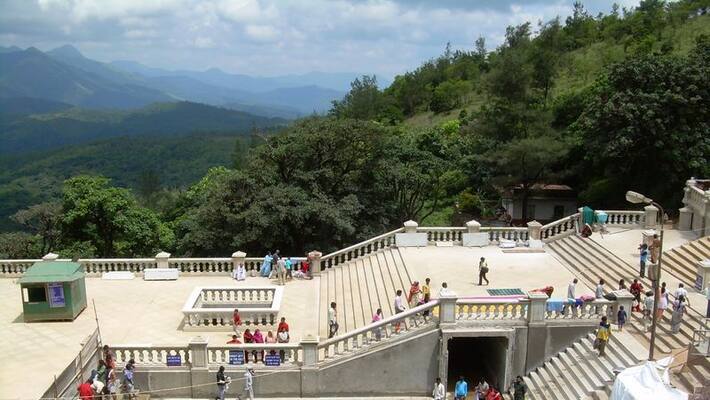 Kodagu: Karnataka Medical Education Minister K Sudhakar had recently announced that the state government is seriously mulling over imposing restrictions on people's participation in the Theerthodbhava, which occurs on the Tula Sankramana day, that is on October 17 this year.
Speaking to reporters after a high-level meeting of Kodagu district officials and elected representatives to evolve strategies to tackle the pandemic in Kodagu, Sudhakar said that there is no other option left for the government but to impose restrictions on the participation of devotees in the annual religious event.
This year the temple staff, the government officials, invitees and only the media personnel will be allowed inside the temple premises to witness and cover the Theerthodbhava.
Also read: Karnataka: Chamundi Hills, other tourist spots in Mysuru closed till October 18
A COVID-19 negative report is a must for invitees taking part in the event from other states.
For the uninitiated every year, at a predetermined time in mid-October, water gushes out from the pond at Talacauvery, the birthplace of river Cauvery, which is considered the holiest place for the Kodavas.
The annual ritual to mark the gushing of water from a spring at Talacauvery draws many devotees from not only Kodagu, but also from different parts of Karnataka and the neighbouring Tamil Nadu and Kerala.
Talacauvery is also a pilgrimage centre for the people of south India, especially those living on the banks of Cauvery. The Kodavas being nature worshippers venerated the river, which they originally called 'Thayoor Pole' (motherland river).
It is believed that Theerthodbhava occurs around the time when the sun enters the zodiacal sign of Libra. The devotees believe that Goddess Cauvery appears at that moment and absolves the sins of all those who bathe in her holy waters.
Hundreds of pilgrims jump into the big tank in front of the small pond and take a holy dip.
Last Updated Oct 15, 2020, 10:44 AM IST