Karnataka MLAs disqualification case: BJP says Congress trying to tarnish its image
While the Congress and JD(S) plan to submit the audio tape in the wake of Supreme Court delivering its verdict on the Karnataka MLAs disqualification case, the BJP says it is a poor attempt by the opposition parties to tarnish its image.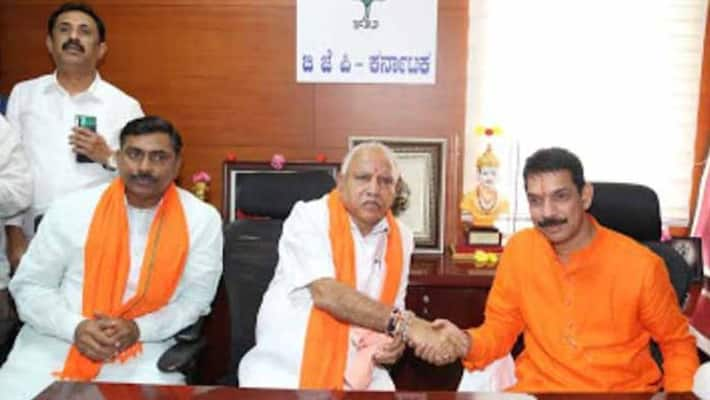 Bengaluru: With opposition parties criticising BS Yediyurappa, Karnataka chief minister for his remarks in support of disqualified MLAs at a party meeting in Hubballi, the BJP plans to launch a countermeasure.
BJP President Nalin Kumar said "The central leaders were aware of the presence of disqualified MLAs in Mumbai. Let Siddaramaiah review the Supreme Court's verdict on such audio tapes and statements of the people. He will then understand the legality of voice recordings."
He added that Congress was resorting to vendetta politics.
He said, "Congress has been indulging in vendetta politics by making baseless allegations and creating fake audio tapes. Congress and JDS are trying to produce fake proofs against disqualified MLAs in Supreme Court and influencing the verdict. It would not show them in a good light."
While the state president alleged vendetta politics, CM Yediyurappa defended himself, saying he was not the only one to speak about the disqualified MLAs and everybody, including Amit Shah knew about disqualified MLAs camping in Mumbai. He also stated that his name should not be dragged into this matter unnecessarily.
As many as 17 MLAs from both Congress and JD(S) decided to bid goodbye to their parties and tendered their resignation to the former Speaker Ramesh Kumar. Later, they all camped at a hotel in Mumbai.
While the coalition government toppled as it did not prove its majority on the floor of the house, the BJP gathered the required numbers and formed the government, with Yediyurappa as the CM.
In the meantime, the Speaker disqualified all the 17 MLAs and banning them from contesting elections till 2023. The rebel leaders had approached the top court. After hearing the appeals from both sides, the court is expected to deliver its verdict anytime this week. 
Last Updated Nov 3, 2019, 2:40 PM IST