Karnataka CM meets Union ministers, discusses state development; seeks special grant from finance minister
On meeting Union finance minister Sitharaman, the CM and his delegation requested her to accept recommendations of the 14th Finance Commission for a special grant of Rs 5,495 crore for Karnataka, on account of reduced devolution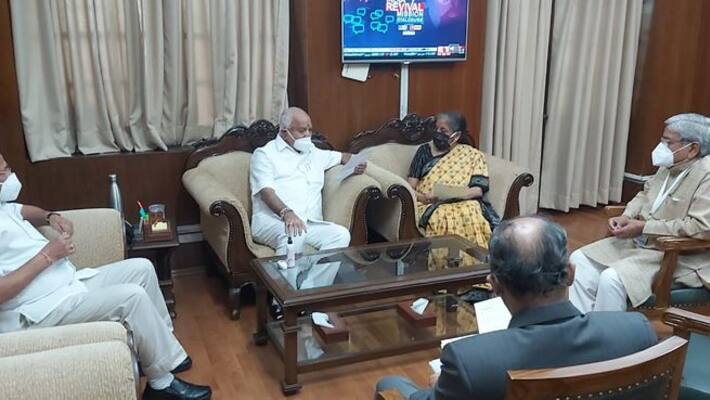 New Delhi: Karnataka chief minister BS Yediyurappa met Union ministers Rajnath Singh and Nirmala Sitharaman after reaching New Delhi on Thursday (September 17).
On meeting the Defence minister, the Karnataka CM requested the establishment of an independent laboratory of the Defence Research Development Organisation (DRDO) at Shivamogga.
Yediyurappa further expressed his belief that the laboratory would help explore natural remedial measures for military use from the Western Ghats region.
On meeting Union finance minister Sitharaman, the CM and his delegation requested her to accept recommendations of the 14th Finance Commission for a special grant of Rs 5,495 crore for Karnataka, on account of reduced devolution.
The chief minister, while submitting memorandum finance minister, said against recommendation of Rs 2,100.25-crore performance grant to Urban Local Bodies and Rural Local Bodies an amount of only Rs 869.40 crore has been received.
He also requested to release the balance amount of Rs 1,230.85 crore. While extending his gratitude for the timely release of funds under Mahatma Gandhi National Rural Employment Guarantee Act (MGNREGA) Scheme, Yediyurappa sought early release of outstanding material dues of nearly ₹665.09 crore and unskilled wage dues of Rs 54.65 crore.
He was joined by Union minister Sadananda Gowda, Deputy CM Govind M Karjol, and chief secretary TM Vijay Bhaskar for the meetings.
Also, Yediyurappa, before leaving for Delhi, had hinted that he would be discussing the Cabinet expansion with BJP Central leaders.
Last Updated Sep 18, 2020, 11:35 AM IST