Karnataka by-polls: BJP's 4th internal survey predicts victories in 12 seats
As per the fourth and latest internal survey of the BJP, the saffron party is touted to win 12 seats.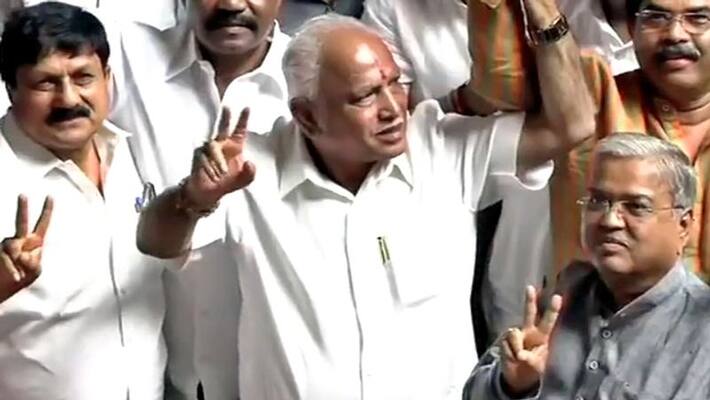 Bengaluru: With just a day left for Karnataka by-polls, all the parties are on tenterhooks. 
While the JD(S) and Congress are seeking a revival after their coalition toppled due to mass resignations, the BJP is looking to sustain the government it is leading. 
The BJP has been conducting internal surveys to gain the mood of the voters. 
As per the fourth and latest survey by the BJP internal circuit, the saffron party is touted to win 12 constituencies.
In the first three internal surveys, the BJP gave itself 9, 13 and 11 seats respectively. 
The surveys also point to a certain fact that the BJP will romp home to victory in the constituencies of Yellapura, Gokak, Kagwad, Vijayanagara and Hoskote. 
However, in KR Pete, the BJP is not very sanguine about its chances. They say it is 50: 50 there. 
As regards Shivajinagara and Hunsur, the BJP has absolutely no hopes of emerging victorious. 
To pass the magic number of 113, the BJP needs 8 more seats to win.
The BJP top brass will be watching the election results with an eagle's eye as these by-polls are being held under the leadership of CM BS Yediyurappa. 
Earlier this year, as many as 17 disqualified and disgruntled members from Congress and JD(S) put in their papers, leading to a collapse of the coalition. 
In the trust vote, the Yediyurappa-led BJP defeated the Kumaraswamy-led government 105-99. 
Later, as the then Speaker Ramesh Kumar disqualified the MLAs and even set a term for their disqualification, they approached the Supreme Court which upheld the disqualifications but set aside the term of 2023. 
It is also pertinent to note that HD Kumaraswamy had openly told the media that he would support the BS Yediyurappa-led government with a view to thwart midterm elections, in case the government fails to garner the requisite numbers to stay afloat.    
 
Last Updated Dec 4, 2019, 1:19 PM IST