Karnataka: After power bill hike, now KSRTC set to revise annual bus ticket fare
The Karnataka government is considering annual bus fare increases for KSRTC, akin to electricity rate adjustments, to alleviate financial strain. The Transport Department will establish a committee to manage these changes, following a model similar to the Karnataka Electricity Regulatory Commission (KERC). The state's financial difficulties have arisen due to rising expenses, including employee wages and fuel costs.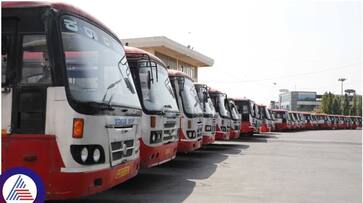 The Karnataka government is thinking about increasing bus ticket prices for KSRTC, just like they recently raised electricity rates in the state. They plan to do this every year, similar to their announcement of increasing electricity fares. This is seen as a step to help balance the state's finances. The Transport Department has been told to set up a committee to manage this decision.
The Finance Department has reportedly instructed the Transport Department to establish a committee to address the issue of bus fare increases. The Transport Department has been tasked with forming a commission to determine the extent of fare adjustments based on a model similar to the Karnataka Electricity Regulatory Commission (KERC).

Kerala: KSRTC to provide special services to Mysore, Bengaluru during Diwali; Check timings and schedule
The financial situation of the Karnataka Transport Corporation has been strained due to various factors, including increased employee wages, rising diesel costs, and expenses related to spare parts. As a result, the corporation has deemed it necessary to revise bus fares. It's important to note that the Transport Department is currently burdened with a debt of around 4,000 crores from four corporations, making fare hikes almost inevitable, akin to the periodic adjustments in electricity rates.
The state of Karnataka has been witnessing regular increments in electricity rates each year. All five electricity supply companies, including Bescom and Hescoms, are required to submit proposals to the Karnataka Electricity Regulatory Commission (KERC) to determine a justifiable power purchase price. The KERC evaluates the revenue and expenditure of these electricity supply companies and subsequently raises the prices accordingly. The Finance Department has now advised the four corporations under the Transport Department to follow a similar model.

Karnataka govt set to introduce electric buses to Mangaluru Airport
Annually, the Transport Department presents the financial state of the four corporations to the Commission, which will then make decisions regarding fare adjustments based on the economic situation.
Despite the contemplation of bus fare hikes, the state government has, for now, decided against implementing these changes. However, sources within the transport department suggest that an immediate increase in ticket prices might provoke significant opposition from the public, especially during the upcoming Lok Sabha elections, potentially impacting the election results.
Last Updated Nov 4, 2023, 4:41 PM IST