Kalamassery blasts: Suspect posted Facebook clip before surrendering, calls Jehovah's Witnesses 'treasonous'
A Kochi native identified as Dominic Martin surrendered before the Kodakara police and claimed responsibility for the blasts that took place at a convention centre in Kalamassery, Kochi during a meeting of Jehovah's Witnesses. Prior to surrendering, he posted a video on Facebook explaining the reason for the blast.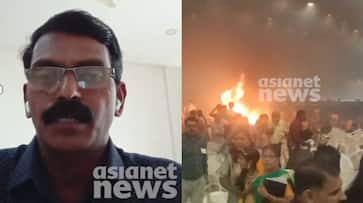 Kochi: In the shocking blasts that took place in Kerala's Kalamassery on Sunday (Oct 29), a Kochi native Dominic Martin claimed the responsibility and surrendered before the Kodakara police. The blast killed one woman and injured several people, creating shockwaves across the state. The incident occurred at the Zamra International Convention & Exhibition Centre in Kalamassery, Kerala during a meeting of Jehovah's Witnesses.
Also read: Blast at convention of Jehovah's Witnesses in Kerala's Kalamassery; 1 dead, several injured
Before surrendering, the suspect posted a video message on Facebook claiming responsibility for the IED blast. He claimed that the bombing was executed due to his opposition to Jehovah's Witnesses and that he had been a member of the group for 16 years. Dominic says in the video that he realised the Jehovah's Witnesses as a treasonous organisation six years ago and that others will be destroyed by their propaganda. He also said that ordinary people like him will react if those who spread false ideas are not brought under control. 
The video ends with him claiming responsibility for the blast and going to the station to surrender.  In the video, Dominic also states that the explosion's method of detonation shouldn't be shown by the media. Dominic released the video message through the Facebook page created five days ago. Following the video's release, Dominic Martin's Facebook page vanished.
At the same time, ADGP Ajith Kumar responded that the police are examining the evidence provided by Dominic Martin and cannot say more at this stage.
Speaking to reporters, the ADGP said, "One person has surrendered in Kodakra Police Station, in Thrissur Rural, claiming that he has done it. His name is Dominic Martin and he claims that he belonged to the same group of sabha. We are verifying it. We are looking into all aspects of this case. The blast took place in the central part of the hall."
The police are interrogating Dominic Martin and his wife and he will be brought to Kalamassery AR camp soon. The suspect in his statements to the police reportedly said that the bombs were placed in a petrol bottle. He also told police about shops where explosives were bought and learned to make bombs from the internet within six months.
As many as 18 people are admitted in the ICU in various hospitals. Six people remain in critical condition. A 12-year-old boy has suffered 95 per cent burns in the blast. The doctors are continuing their effort to save as many lives as possible. 
Last Updated Oct 29, 2023, 6:15 PM IST