WATCH: Gaganyaan Mission Update: ISRO's first test flight successful
The Indian Space Research Organisation (ISRO) delayed the launch of the Gaganyaan test mission, TV-D1, to 10 am. The test is designed to evaluate the efficiency of the crew module's abort system. This mission plays a critical role in ensuring astronaut safety during space missions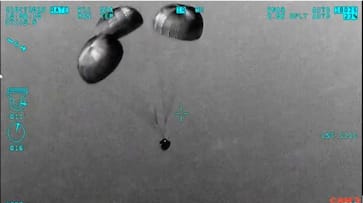 The Indian Space Research Organisation (ISRO) successfully tested the maiden Gaganyaan test mission at 10 am after briefly placing the test on hold due to an anomaly. Named TV-D1, short for the First Development Flight Test Vehicle, this mission aims to test the vehicle abort system, specifically the crew module and its escape system, which plays a vital role in ensuring astronaut safety during space missions. 
Following the successful test, ISRO Chairman S Somanath said: "There was a monitoring anomaly that cause a delay in the launch. Then it took time to refill the gases. Following this, the Automatic Launch System was carried out and the ground computer cleared the launch. I am happy that our team could identify and resolve the anomaly very fast. We will come back with more information."
The primary objective of this mission was to take the crew module to a height of 17 kilometres within low Earth orbit and assess the abort system's functionality mid-air when the rocket is travelling at a speed of Mach 1.2, equivalent to 1482 kmph. The Crew Escape System will facilitate the separation of the Crew Module from the rocket after reaching a specified altitude.
Explained: Gaganyaan First Test Flight mission, timeline, objectives and more
The Indian Navy took the lead in recovering the TV-D1 Crew Module after touchdown, approximately 10 kilometres from the Sriharikota coast. Recovery ships stationed at a safe distance in the sea approached the Crew Module, with a team of divers attaching a buoy to hoist the module using a ship crane and transport it to the shore.
This mission assumes critical importance as it validates the efficacy of the system essential for ensuring astronaut safety during emergencies while journeying into outer space as part of the Gaganyaan program.
What is a Crew Module?
The Crew Module (CM) plays a pivotal role in the Gaganyaan mission, providing a pressurized environment for astronauts. However, for the Test Vehicle Abort mission-1 (TV-D1), an unpressurized CM is employed. This unpressurized CM closely matches the size and mass of the actual Gaganyaan CM, containing all the necessary systems for deceleration and recovery, including parachutes, recovery aids actuation systems, and pyrotechnic devices.
First of Four Tests
The Gaganyaan program encompasses four emergency escape test launches. TV-D1 marks the first, followed by subsequent test flights like TV-D2 and an uncrewed mission, LVM3-G1, featuring robotic payloads. Missions D3 and D4 are also in the pipeline, along with another uncrewed mission, LVM3 G2. The Indian Space Research Organisation (ISRO) emphasizes the essential role of these tests in evaluating critical technologies crucial for Gaganyaan's success and validating human safety precautions before the inaugural crewed mission in 2024.
Last Updated Oct 21, 2023, 10:35 AM IST